Score Big on Branding Goals with the Best Promotional Soccer Products for 2019!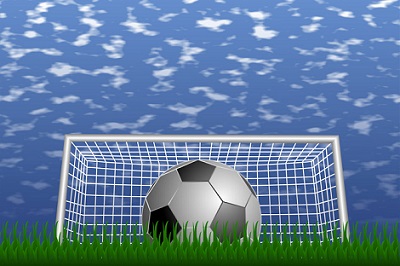 Though summer may still be in full swing, there's no time like the present to start planning for your fall promotions. This is especially true if you happen to be a sports team, league, or school with athletic teams looking to jump out ahead of the competition. One of the sports that's most closely associated with back-to-school season is soccer. Therefore, we were inspired to put together this guide to the top 15 promotional soccer products for the 2019 season. With fun soccer giveways for use on the pitch, at the pub, or in the office, this article has it all. Now that the introduction is out of the way, we'll cut straight to the chase and kick off the list.
1. Regulation Size Custom Printed Soccer Ball
We'll literally get the ball rolling by introducing the first product, which is our promotional Regulation Size Soccer Ball. Buy these soccer balls in bulk and you'll have enough for the whole team to get down to business straight from the first practice of the year. These full size (#5) soccer balls make excellent giveaway items for schools, soccer teams, fitness centers, and health & wellness trade shows. Perfect for use by teams at all levels and players at all points of experience, these soccer balls feature the classic black and white pentagonal pattern. When inflated, each measures 8 inches in diameter and has an imprint area of 2½ inches. For an upgrade fee, the balls can be sent pre-inflated with special boxing.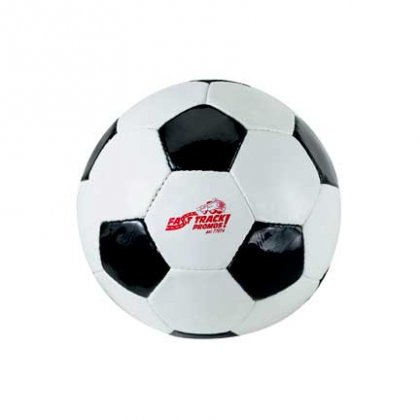 2. Game Time Personalized Soccer Fidget Spinner
Though fidget spinners may not be the scorching-hot fad they once were, they still have a diverse and dedicated user base. The sensory stimulation provided by playing with these fun little gadgets can help users to calm down in many situations. Those affected with autism and/or ADHD often feel the need to engage in repeitive and frequent movement. Our custom soccer fidget spinners allow them to do just that effectively and discreetly. However, one need not have either of these conditions to reap the benefits of fidget spinners. They're a great way for relieving stress when waiting in doctor offices, killing time on bus rides of flights, or even calming nerves during business meeetings.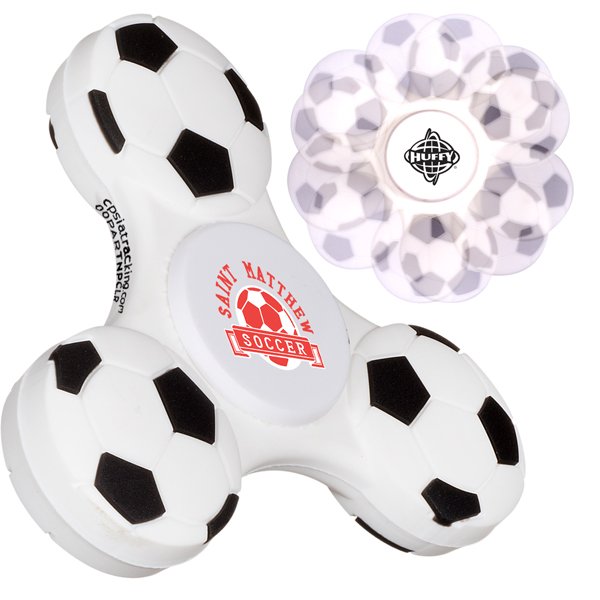 3. Hot & Cold Promotional Soccer Gel Pack
When soccer players get bumped, bruised, or pull muscles in action, they're going to want and need quick, reliable relief. Your brand can give them just that by way of our affordable wholesale soccer ball hot and cold gel packs. Your business can become the face of comfort when your logo is imprinted on these customizable gel packs. Latex-free and non-toxic, these gel packs can be used to temporarily relieve pain via heat or coldness. They're affordable and reusable, featuring a soccer ball pattern on the front and instructions on the back. Each is black and white and comes with a single color and location logo imprint, which occupies a space of 2 inches wide by 1¼  inches high. The chill patches themselves are 4½ inches in diameter with a depth of 1/2 of an inch.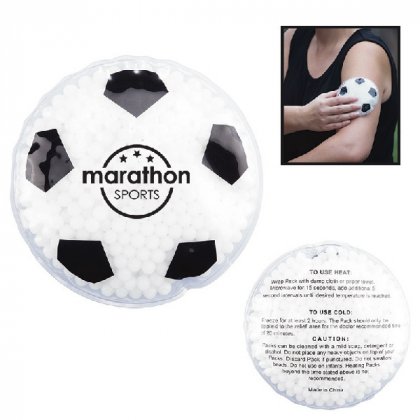 4. 14" Logo Printed Soccer Beach Ball
Have some extra fun on the sand or in the pool with our promotional soccer pattern beach balls! These cusotm sports ball themed beach balls have a diameter of 14 inches and make great giveaway items for sports camps, water parks, soccer teams, gyms, toy stores, and more. Each is black and white, in typical soccer ball fashion. They're shipped flat, possessing a diameter of 9 inches. When fully inflated, they have a diameter of 14 inches and circumference of 28 inches. Each is imprinted with your customized business logo design in one color and location. The imprint area included in the price spans 4 inches in width by 3 inches in height. Please reach out to us if you have any questions regarding futher perosnalization options or shipping.
5. Custom Printed Soccer Ball Car Magnet
You can show support for your favorite team by sporting our promotional soccer ball car magnets on your door or bumper. Custom car magnets are a great way of rooting for a team before the game even starts, be it at home or on the road. Organize a group trip to road games for an intimidating convoy of fans to get the opposition shaking in their cleats! Made from white magnetic vinyl, these wholesale soccer car magnets are perfect for fans of youth, high school, college, or even professional teams. Each comes with a dark gray and white soccer ball stock art pattern. Each magnet has a diameter of 5¾ inches with an imprint area of the same size. A single color logo design is included, but for an upgrade fee, multiple color logo imprints are also accessible.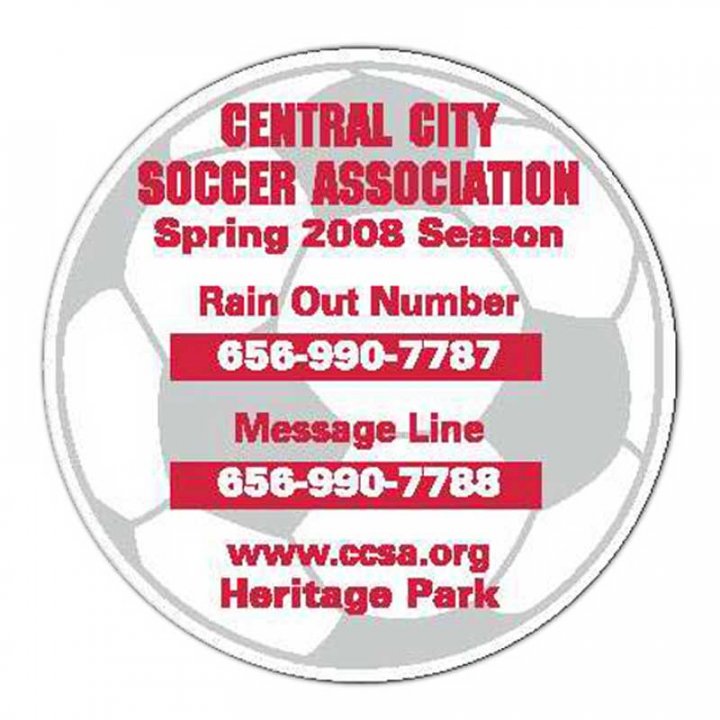 6. Squeezies® Promotional Soccer Ball Stress Balls
You can help your employees & target market let go pent-up anxiety while building brand awareness at the same time. How? Supply them with our custom printed soccer stress balls! They're perfect as promotional giveaways for soccer teams, but also work well as giveaway items at trade shows & health industry seminars. Virtually any business or organization, from athletic leagues to bars to pharmacies and beyond can build awareness and fan/customer bases by handing out these bulk stress balls. They come in your choice of orange, red, or white and have a diameter of 2½ inches. Their imprint area plays host to a single color and location design (multiple colors available for an upgrade fee) with a width of 1½ inches and height of 1 inch.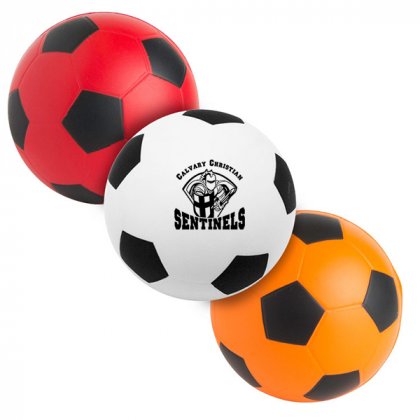 7. Wholesale Soccer Tote Bags
Our custom logo imprinted soccer tote bags are perfect for both players and fans to bring needed items to the game or anywhere else they may need to travel. These are eco-friendly soccer giveaway items, as they're made from 80GSM non-woven polypropylene. This is a recyclable thermoplastic that can be melted down and reformed for another purpose when the tote bags have run out their lifespans. However, don't count on that happening any time soon; these promotional sports tote bags are extremely durable and offer a long lifespan. Shaped and printed to look like a soccer ball, these tote bags and black and white with a soccer ball design framing your logo imprint, which measures 7 inches in both width and height. Each tote has a diameter of 19 inches and depth of 6 inches, along with twin 28 inch handles.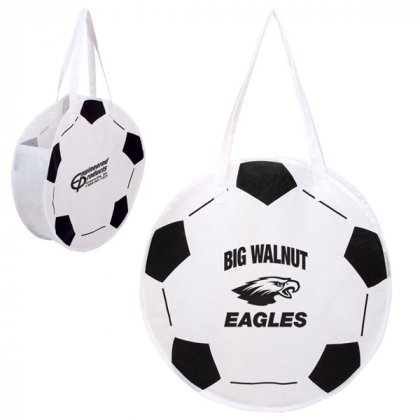 8. Cheap Soccer Ball Bottle Openers in Bulk
If you're looking for a high quality yet cheap promotional giveaway item for bars, you've just found it. Our wholesale inexpensive soccer ball bottle openers are a great way to keep the crowds coming back week after week to take in the soccer match. Each ships 100% free of charge, so the savings can add up quite quickly. Shaped like a soccer ball and imprinted with soccer stock art, these stainless steel bottle openers are adept at opening both cans and beer/soda bottles. Each bears a black and white soccer ball design on both sides, with the front side having a white central area. This is where your customized logo imprint will appear, in a space measuring ¾ of an inch in both width and height. As a whole, each bottle opener is 2¾ inches in diameter and ⅙ of an inch thick. A single imprint color is included in the price, but a second can be added for an upgrade fee. They also have a magnetic backing, making them ideal as non-slip coasters or for placing on magnetic surfaces when not in use.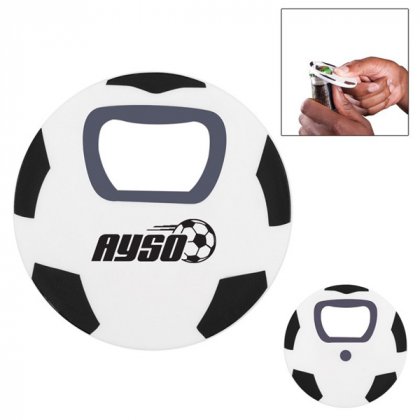 9. Promotional Soccer Ball Shaped Coin Bank
As they say, a penny saved is a penny earned. Kids can learn the value of saving money while your brand rakes in money through the awareness that our promotional soccer ball money banks are sure to generate. Each of these fun promotional coin banks is made form plastic and shaped like a soccer ball. A straight money slot is located at the top for inserting coins and bills. On the bottom, users will find a removable plug that can be used to extract the bank's contents. These make terrific promotional products for banks, credit unions, financial advisory agencies, accounting firms, and more. Whether passed out as trade show giveaways, grand opening treats, or new account premiums, these personalized coin banks are sure to impress. Each is 3 inches wide by 3½ inches high by 3 inches deep, with an imprint area of 1 inch in diameter. A single color and location imprint are included, but the choice of color is quite broad, allowing you to find the perfect match for your logo.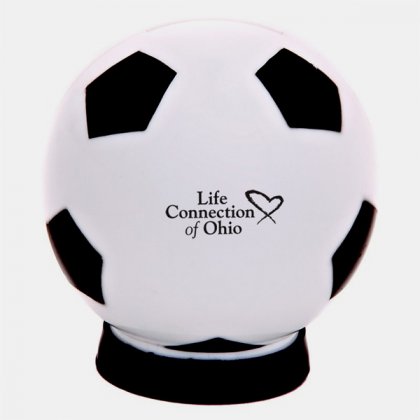 10. Personalized Soccer Tear-Off Calendars
Keep all dates in order and avoid missing a single game with our custom Soccer Ball Peel n Stick Calendars. These wholesale discount peel-off calendars make great promotional products for nearly any business wishing to forge a relationship with local soccer teams and their fans. Alternately, they can be handed out as giveaway items at games by the teams themselves and the venues that host them. Made with pride in the USA, these cheap promotional calendars have a page for every month of the year, with holidays highlighted in print. Each comes with a vinyl header, which is where your one color logo imprint will reside. There are 24 different header colors available, with particular imprint colors corresponding to each. Please give us a call, email, or live chat message for further details. Each calendar is 3 inches wide by 4 inches high and offers an imprint space of 2¾ inches wide by ¾ of an inch high.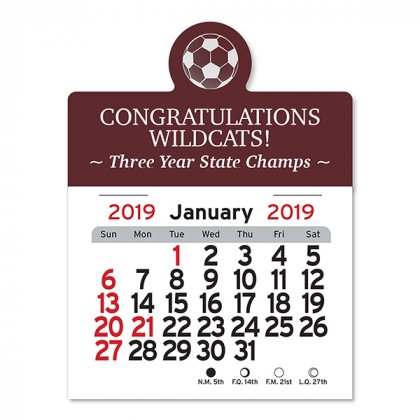 11. Custom Printed Penny Soccer Game
Users will have hours of fun playing with our personalized penny soccer table games. These unique tabletop games are perfect for use at bars, restaurants, classrooms, waiting rooms, and even at home. Each wooden game board is made from MDF maple and is decorated with a soccer field design on the playing surface. Four white bumpers create a challenge as players attempt to flick a penny by finger into their opponent's goal. Two sets of metal pegs are included, allowing users to keep score and even engage in tournament play. A card with game instructions is also included at no additional charge.  In terms of size, our Penny Soccer Game is 13½ inches wide by 20½ inches long by 1½ inches deep. Each has an imprint area with a diameter of 2½ inches. A single color imprint design comes standard, but multiple colors can be included for an upgrade fee.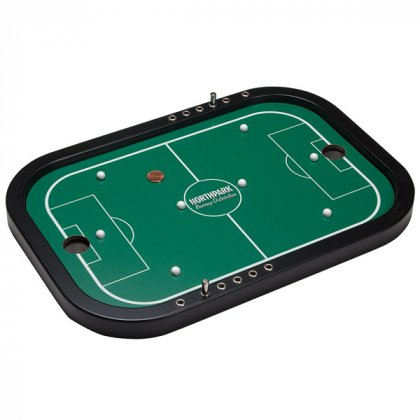 12. Oversized 500 lb Capacity Folding Chair with Logo Imprint
Fans of all size are sure to appreciate this item. When attending a soccer game with limited bleacher space (or no seating at all), it's nice to be able to count on a big, comfortable chair with all the bells and whistles to get you through the game in style. That's just what your business will provide users with when you invest in our extra large promotional folding sports chairs. While most folding chairs tap out at around the 250 lb mark, these goliaths can hold up to 500! They're extremely sturdy, thanks to their extra wide steel frames and super durable 600D polycanvas seat and back rest. Each comes with two handy cup holders and its own carrying case. Despite their high weight capacity, they're delightfully light and easy to carry. These extra large folding outdoor chairs come in your choice of black, charcoal, or royal blue. They have a width of 23⅝ inches, height of 38⅝ inches, and depth of 3713/32 inches. Every one of these chairs has an 8 inch wide by 8 inch high imprint area located on the back of the upper panel. For an upgrade fee, multiple imprint locations and colors can be included.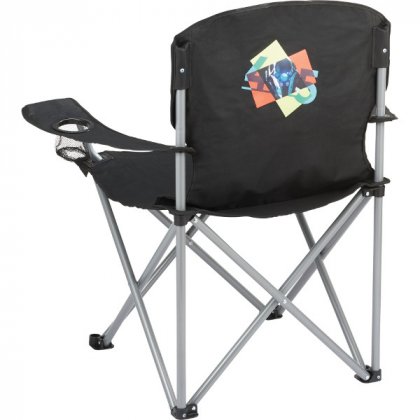 13. Wholesale Soccer Ball Stadium Cushions
If your target audience fancies soccer but finds the bleachers to be little uncomfortable, or for that matter, entirely absent, we're here to help. Our promotional soccer ball stadium cushions, which are also available in volleyball, tennis, basketball, and baseball designs, are manufactured with comfort in mind. Those with back problems or anyone who just wants something soft and stylish to sit on will love these unique stadium cushions. Each has a round shape and has a vinyl foam material to promote comfort and keep users dry. While this version features a soccer theme, these cushions are also available in volleyball, basketball, tennis, and baseball styles. Each has a 14 inch diameter and comes with a single color and location logo imprint. For an upgrade fee, multiple logo design colors and locations are available.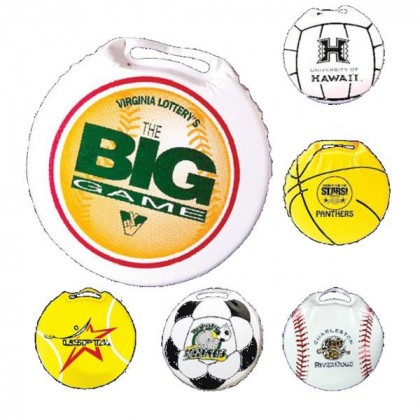 14. Company Branded Soccer Ball 4-Port USB Hubs
Soccer players, fans, and those who love them all need to charge their mobile devices throughout the day. They can do just that and have some fun in the process with our personalized soccer ball 4-port USB charging hubs. Fans of soccer will love to kick some power into their tablets, phones, and laptops with these mini charging stations. Each ships absolutely free of charge and has 4 ports, allowing up to four different devices to be charged at the same time. These make excellent giveaway items for sports teams, youth leagues, semi-pro leagues, tech firms, college bookstores & more. Twisting the ball extends the ports outward for better access, while twisting in reverse pulls them in for safe storage. In addition to the soccer design, these are also available in basketball, football, and baseball versions. A single color and location imprint are included standard, but an upgrade fee grants access to multiple imprint design colors. The imprint area sizes vary based on which ball style you choose, so please contact us with any questions.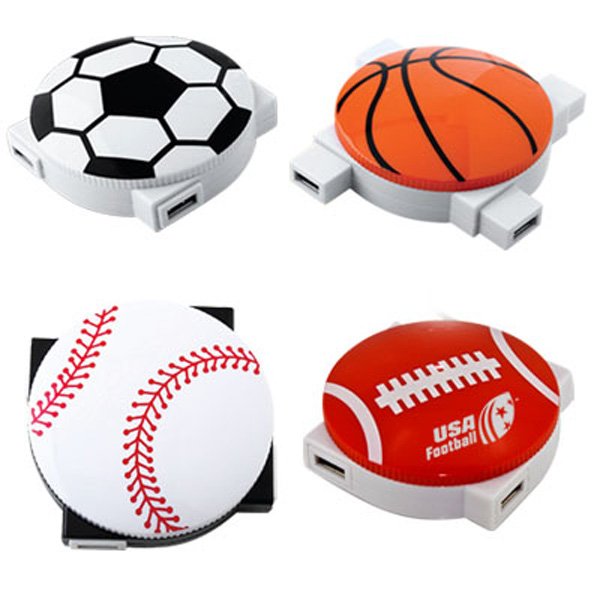 15. Custom Embroidered Stormtech® Soccer Shorts
For soccer teams to play their best, they need to look and feel their best. That won't be a problem when they're equipped with our promotional soccer shorts with logo embroidery. These sports are perfect for soccer teams at any level, offering excellent moisture wicking qualities to keep players dry and comfortable. An elastic waistband (with an interior drawstring) makes them easy to manipulate and ready to move. These promotional soccer shorts are available in both youth and adult versions. The youth versions have a 6 inch inseam, while the adult version has an 8 inch inseam. Available in scarlet, royal blue, black, and navy blue, each pair has a 2 inch area where your embroidered logo design will appear. Up to 5,000 stitches come standard, but higher stitch counts can be obtained for an upgrade fee.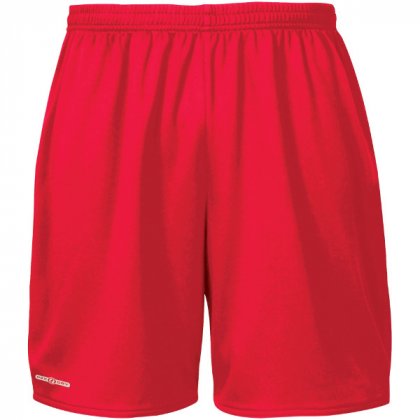 And with that, our guide to the 15 best promotional soccer giveaway items for 2019 comes to an end.