What is Polypropylene and What Can it Do to Promote Your Business?
If you spend any amount of time on our site, "polypropylene" is a word you're going to run into sooner than later. Also referred to as "non-woven polypropylene" or just "polypro" for short, polypropylene is an eco-friendly plastic material that is used in the production of many different kinds of promotional products. Its use isn't just limited to the promotional products game though. Polypropylene is the second most heavily manufactured plastic in the world, falling only behind polyethylene for the lead. It is designated as a #5 plastic, so whenever you see the recycling symbol with a 5 in the middle, you can be sure you have a polypropylene item on hand.
So why is this material so popular? For one thing, it's a thermoplastic. This means that it can be melted down and reshaped into a new form without losing its strength or integrity. Secondly, it's a highly durable material. It is able to resist chemicals, water, stains, dirt, and general contact on a level superior to the vast majority of plastics. It's also an Earth-friendly material, since it's typically made from recycled materials and is reusable and recyclable in its own right. The strength and thickness of polypropylene is measured in GSM, or grams per square meter. The higher the number, the tougher the material. It also takes exterior coatings and treatments well, making it an ideal surface for imprinting. Interested in learning more about the properties of polypro? Here's a video to satisfy the scientist in you:
Why does the phrase "non-woven" often precede polypropylene in our item descriptions? It's a fairly simple answer. Being that it's a plastic and not a thread-based material, sewing generally does not take place with. Polypropylene is usually produced in large rolls that are cut into smaller sheets and then further reduced to meet a manufacturer's needs. Panels are frequently heat sealed together rather than being stitched. This results in much shorter production times as well as a less expensive production process. Still, stitching will sometimes find its way into the picture. Such is the case with any polypropylene item with reinforced stitched carrying handles. It adds an extra measure of security and durability to make a good promotional product a great one.
Promotional Recycled Tote Bags - Non-Woven Polypropylene Totes
Polypropylene is most frequently found in our collection of promotional recycled tote bags. This comes as no surprise, since these are items that need to be strong. A personalized tote bag that can't carry much weight or is easily worn, warped, or destroyed by ambient conditions isn't going to help your company's public image. Constructing our wholesale recycled tote bags from non-woven polypropylene is a sure-fire way of preventing the aforementioned situation. To illustrate our point, we'll now share five of our best promotional polypropylene tote bags with you.
Economy Tote Bag - Cheap Promotional Recycled Tote Bags
Our Economy discount recycled tote bags are an affordable yet high-quality style, perfect as giveaway items at large trade shows and events. Each has a density of 80 GSM and offers sturdy reinforced carrying handles. Great for carrying books, groceries, pamphlets, and trade show giveaways, this style one of our consistent top-sellers. They're available in your choice of 14 different colors, with every unit coming with a single color and location logo imprint. For an upgrade fee, multiple imprint colors and locations can be accessed, as can full color logo designs. Their imprint area spans 8 inches in both width and length. As a whole, each bag is 13½ inches wide by 14½ inches high.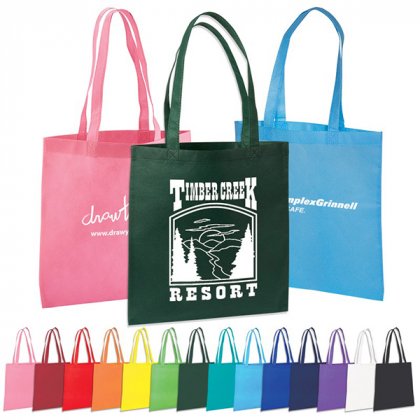 Super Non-Woven Grocery Tote Shopping Bag - Custom Polypropylene Grocery Bags
The next of our eco-friendly polypropylene tote bags we'd like you to meet is the Super Non-Woven Grocery Tote. These custom logo printed reusable grocery tote bags are quite versatile and there use isn't limited to just the supermarket. They're equally effective when it comes to holding books, laundry, gifts, towels, and a multitude of other items. Consequently, they're a perfect fit as a giveaway item for nearly any industry. These large recycled grocery bags are available in four colors (red, black, navy blue, and royal blue) and stand 12 inches wide by 14½ inches high by 8 inches deep. Their 9 inch wide by 9 inch high imprint area is quite large, as can be seen in the image below. Each unit comes with reinforced carrying straps that are positioned such that they don't obscure the view of your customize business logo imprint.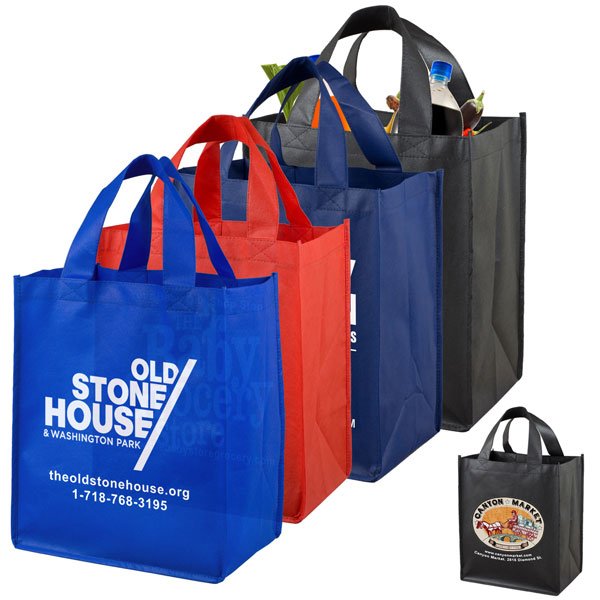 Metallic Non-Woven Shopper Bag - Custom Laminated Polypropylene Tote Bags
High end boutiques, gift shops, salons, resorts, casinos, and jewelry stores are just a few of the many businesses that will find our wholesale laminated polypropyelen tote bags to be a perfect fit. These recycled tote bags are coated with a high gloss finish to create a sophisticated, ritzy look that is a true fashion statement. Each of these custom polypropylene tote bags is water-resistant and has 15½ inch carrying handles. Take your pick among a gold, silver, emerald, ruby, silver, or copper look to best match your company logo. Provide your employees, customers, and target audience with a little taste of luxury via these laminated metallic tote bags. Each bag is 14¼ inches wide by 16 inches high by 4¼ inches deep. They'll proudly display your personalized logo design in a 10 inch wide by 10 inch high imprint area. 
Non-Woven Double Wine Bottle Bag - Promotional Non-Woven Polypropylene Wine Bottle Totes
One of the rising stars of the promotional products industry comes in the form of personalized wine bottle bags.One great representative of this product group is our Non-Woven Double Wine Bottle Bag. Made from 20% recycled non-woven polypropylene, these promotional double wine totes feature braided cord handles for a stylish look and strong & secure carrying experience. They also have a front slip pocket which is perfect for collecting business cards at networking events and tradeshows. Three colors are available, with light green, black, and beige making up the trio of options. Each is 7 inches wide by 11 inches high by 3 inches deep. The imprint area measures 4½ inches wide by 6 inches high. While a single color and location imprint come standard, you can upgrade to include a full color logo imprint.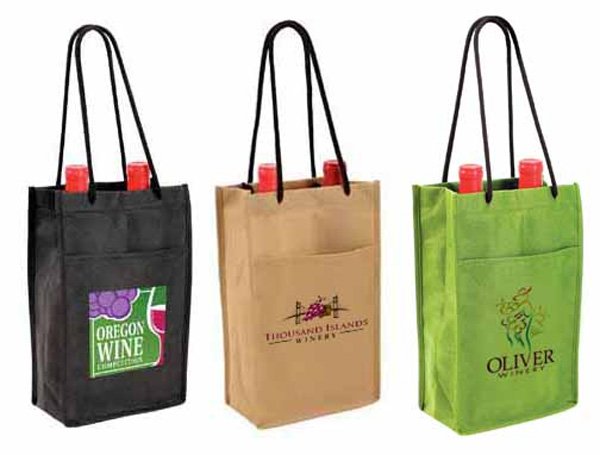 Large Non-Woven Reflective Sports Pack - Custom Recycled Polypropylene Backpacks
The last personalized tote bags made from polypropylene that we'll discuss in this aritcle are our promotional reflective safety sports backpacks.These techically fit in the tote bag category, since their drawstring closure allows them to be carried cinch bag style for users who don't wish to wear them as backpacks. They're perfect for nighttime events and outdoor occasions, as they are appointed with two reflective strips to increase visibility. Constructed from 80 GSM non-woven coated polypropylene, these customized drawstring backpack totes are water resistant and more than just a little bit sturdy. Reinforced eyelets around the handles help to prevent fraying and keep these bags working stronger & longer. 
Coming in your choice of 9 different colors, these custom logo printed non-woven drawstring backpacks are 17 inches wide by 20 inches high. Each has an imprint area of 9 inches wide by 9 inches high, offering plenty of space for showing off your one color logo design. For an upgrade fee, multicolor imprints can be added.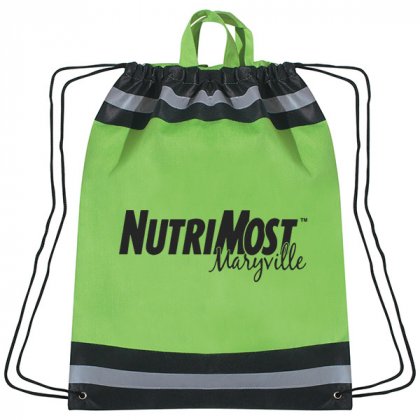 Additional Promotional Products Made from Polypropylene
As we mentioned earlier in this article, polypropylene is used for a vast array of purposes. While our recycled tote bags may boast the most polypropylene of any category on our site, there are plenty of competitors. In the next 5 paragraphs, we'll tell you about some of our other custom logo printed giveaway items that are made from polypropylene.
Round the Clock Pill Box - Custom Reusable Pill Boxes Made from Polypropylene
Polypropylene often finds its way into the production of various devices used within the medical industry. You'll find ample proof of that statement at 4AllPromos, as we offer many health & wellness giveaway items for hospitals, clinics, convalescent homes, pharmacies, schools, and physician offices. One such item is our Round the Clock promotional eco-friendly pill organizer. These pocket sized, business logo printed pill boxes are made from polypropylene and are about the size of a silver dollar. Like many of the tote bags we've described, these pill organizers are also a great idea when it comes to carry-on luggage. Nobody wants to be stranded on a plane or at the airport without their needed medications. Each has an easy to operate hinge lid and a full diameter of 1¾ and an imprint area with a diameter of 1⅛ inches in diameter. While this may sound small, it actually covers nearly the entire top surface, making your logo stand out quite prominently.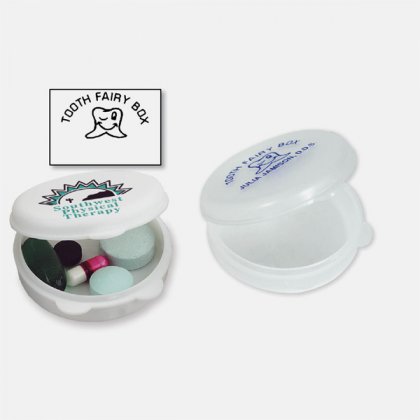 Non-Woven Promotional Apron - Eco-Friendly Recycled Aprons Made from Polypropylene
Let's now move from the medicine chest to the kitchen. While we carry several different promotional polypropylene kitchen supplies, the item we're going to focus on right now is one of our customized aprons. Their name puts on no airs, but rather just gets to the point with the moniker Non-Woven Promotional Apron.These personalized polypropylene aprons make a great accessory to any restaurant, bar, or deli uniform. They offer a professional look with a colorful flair. Made from durable 90 GSM polypropylene, these aprons offer excellent protection for clothing and can be used for a variety of purposes. They work quite well when employed by BBQ grill masters, short order cooks, butchers, artists, charity car wash participants, and a multitude of other situations. Each is 24 inches wide by 30 inches high and contains an imprint in your choice of one of two locations. The upper front bib imprint area is 6 inches wide by 6 inches high, while the front lower left corner offers a space of 9 inches wide by 9 inches high for your business logo design. For an upgrade fee, multiple imprint locations and colors are accessible.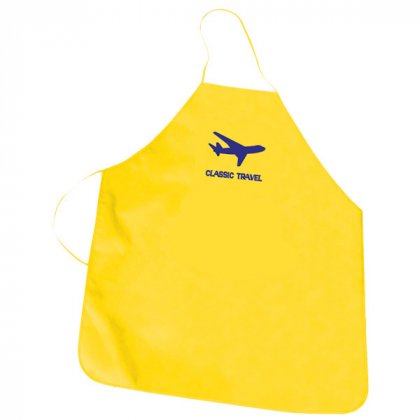 18 oz Infinity Tumbler - Personalized Eco-Friendly Travel Tumblers Constructed from Polypropylene
It's time to leave the kitchen and hit the road with our custom logo printed travel tumblers made from polypropylene plastic. These items show polypropylene in its more rigid form. These 18 oz promotional tumblers are perfect for holding an eye-opening serving of coffee during morning commutes or long road trips. Their shape allows them to easily fit into most cup holders, but they're also handy to have around the office. The Infinity Tumbler is available in colors of stone, black, blue, lime green, dark green, and light blue. Each features a gray sip-through lid to prevent spills and burns. In terms of size, these bulk travel tumblers have a diameter of 3¾ inches and a height of 7 inches. Included in the price is a single color and location logo imprint, taking up a space of 4½ inches wide by 3 inches high. Want to add a more colorful logo design? No problem! Multicolor imprints are available for a small upgrade fee.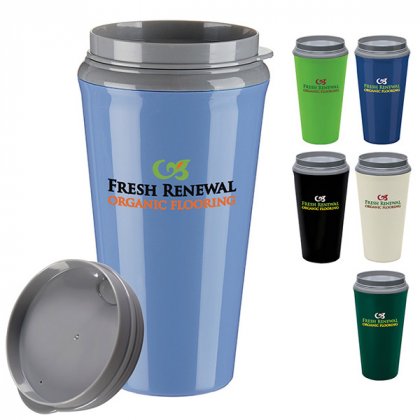 16 oz Budget Travel Mug with Slide Lid  -  Cheap Insulated Travel Mugs Made from Polypropylene
Here's another excellent piece of promotional polypropylene drinkware. The 16 oz Budget Travel Mug with Slide Lid is one of our best cheap promotional travel mugs with handles. These discount promotional mugs feature polypropylene double wall insulation to keep drinks hot and and cold for hours at a time. As is the case with the tumblers described above, these travel mugs are designed to easily slip into cup holders. However, they're easier to use in a wider variety of locations, thanks to their large, strong handles. They're ideal for providing hydration while camping, at picnics, on road trips, in cubicles, or while working outdoors. They have a top diameter of 5 inches and bottom diameter of 37/16 inches. They stand tall and proud with a height of 6½ inches. Each is imprinted with your customized logo design in an area consisting of 2⅝ inches in width by 2⅜ inches in height. For some extra promotional punch, you can upgrade to include multicolor and/or wrap imprints. A convenient slide lid makes drinking and avoiding spills a cinch.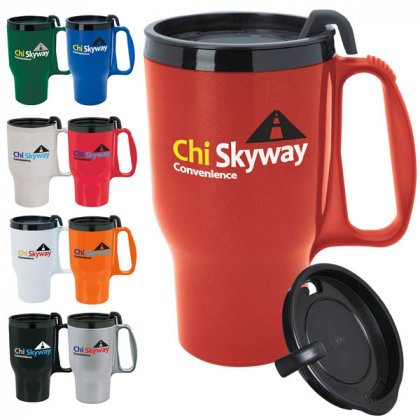 Beach Mat - Custom Promotional Polypropylene Folding Beach Mats
To prove that polypropylene products aren't all work and no play, we'll finish by introducing you to our custom folding polypropylene beach mats. These discount promotional beach mats present polypropylene in another one of its forms. To be specific, these are made from tubular polypropylene. This is a form of polypropylene that is very lightweight and has the ability to float. Thanks to their construction, these wholesale beach mats can float and are water & sand resistant. When not in use, the mats can easily be rolled up into a self-contained carrying case. The front panel of this case has a cotton cloth cover and has an imprint area of 2⅝ inches wide by 2⅜ inches high. In rolled-up case form, an easy to use carrying handle sits on the top for convenient storage. With size dimensions of 12 inches wide by 9 inches high (folded) and 36 inches wide by 72 inches long (open), these bulk affordable beach mats are further complemented by an inflatable pillow.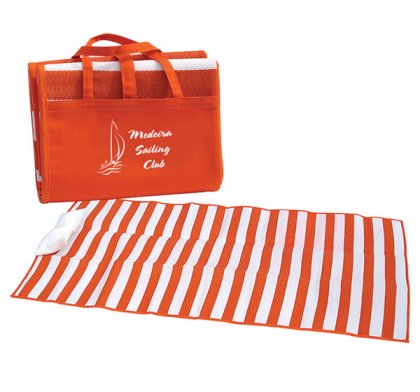 That's a wrap for our guide to the best promotional polypropylene promotional products. We'd like to remind you again that the items we've presented here are just the tip of the iceberg. If you'd like to learn more about our promotional polypropylene items for giveaways, you can refer to the list below to skip directly to your category of choice. 
Polypropylene Promotional Products