Cool Off this Summer with Our Promotional Koozie® Products & Custom Beer Can Coolers!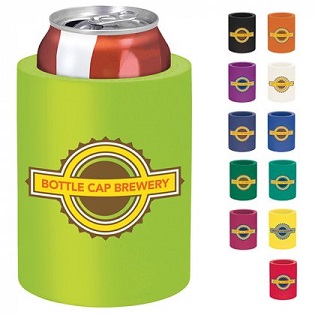 Right now we're experiencing that pivotal part of the year between early and mid-spring. The snow has now melted, new leaves are just beginning to appear on trees, and icy roads and lawns have now made their transition to mud soup. Early flowers are starting to sprout up here and there, bringing a smile to the faces of those who love warm weather and a grimace to the faces of those who do not. Yes, it's spring all right, and that means one thing to those of us in the promotional products industry. Since we always have to think, plan, and act ahead, this is the time of year when we start to focus on rolling our best promotional products for summer to make sure that they can be ordered and received in time to be enjoyed and effectively employed throughout the upcoming season.
Most everyone knows that staying hydrated is the ultimate key to staying healthy and beating the heat when the mercury rises. Unfortunately, almost everyone also knows the experience of sipping an unpleasant warm beverage that was once chilled. Equally displeasing is the experience of fumbling wet and slippery beverage cans or dealing with the damage they can cause to the surface of a table or counter. To complete the trifecta of summer beverage unhappiness, we'll throw in the freezer burn and general discomfort that can result from holding a can or bottle that's a bit too cold.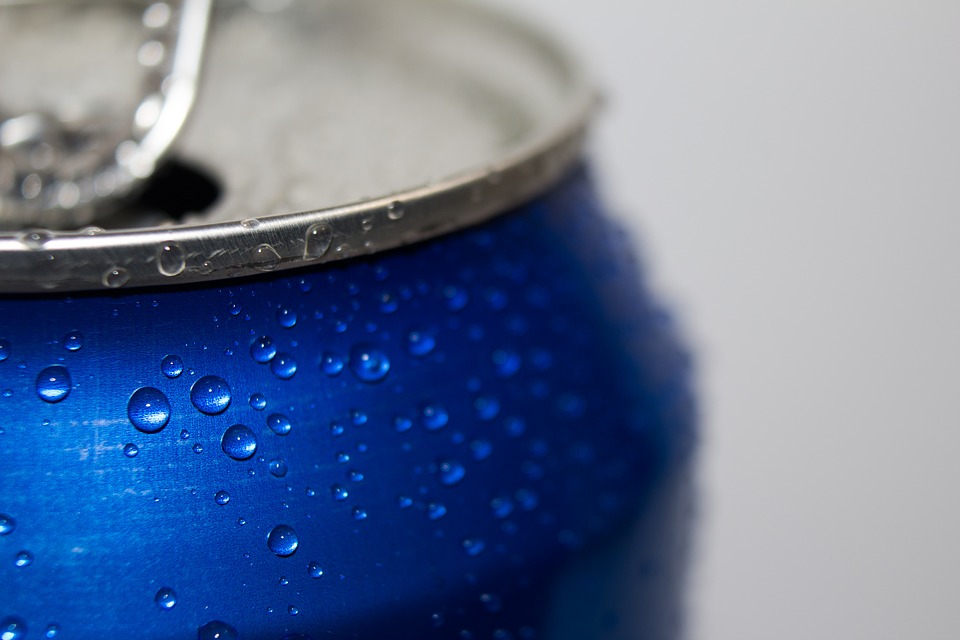 The past two paragraphs present a mixed bag of negative and positive elements. However, there's a reason for this; we have a category of promotional giveaway items that capitalizes on all of the above, enabling you to build brand awareness all summer long. Naturally, we're referring to all of our promotional KOOZIE® proudcts and custom logo printed insulated beverage can holders. In this article, we're going to show you some of our best personalized Koozie® beer can holders & other assorted custom logo bottle & can insulation sleeves. We'll cover three of the main materials that our personalized can coolers are made from: foam, neoprene, and double wall vacuum insulated stainless steel.
1. Economy Collapsible KOOZIE® - Best Cheap Promotional KOOZIE® Items
The first specimens on our list today are our cheap promotional collapsible KOOZIE®. These customized beer can holders deliver in exactly the way their name would indicate. They easily fold flat for simple and convenient storage and transportation when not in use. When the time comes for them to be called into service, they can easily expand to allow users to fit a cold can or bottle inside. Each unit is 3¾ inches wide by 5 inches high. They're available in a broad range of different colors, so finding one to match your logo imprint will be a breeze. Speaking of logos, each comes with a single color and location logo imprint. This imprint design occupies a space of 3 inches in width by 5 inches in height. For an upgrade fee, full color logo imprints can be added.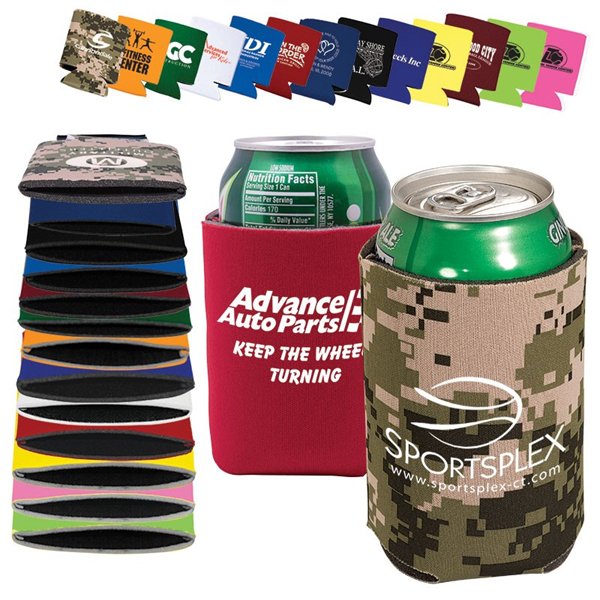 2. Full Color KOOZIE® Can Holder - Promotional Insulated Can Holders 
Next up are our promotional beverage can holders with full color imprints. Much like the collapsible models featured above, these wholesale KOOZIE® products with logo imprints employ foam insulation. When it comes to insulated can and bottle holders, polyurethane and open cell foam are the most common and inexpensive ways to go. It provides a material that is pliant yet sturdy enough to securely hold a drink. Foam insulation works to keep hands dry and drinks cool. With that out of the way, we'll describe the actual product.
The Full Color KOOZIE Can Holder has a polyester exterior which wraps full around an interior thermal foam sleeve. As is the case with the first item we discussed, these are available in many different colors. With a width of 3⅞ inches, a height of 5¼ inches, and a depth of ⅛ of an inch, these personalized can holders are easy to buy in bulk and store almost anywhere. Each one comes with three different areas to display your personalized company logo imprint design. Both sides offer an imprint area of 3 inches wide by 3 inches high. The bottom surface sports an imprint area measuring 2 inches in diameter. Offering protection around all sides and on the bottom, these items are a great way to protect wooden surfaces from water damage.
3. Metallic Kan-Tastic - Custom Logo Printed Neoprene Can Holders
As we mentioned earlier, neoprene is one of the materials used in the promotional beverage can holders available on our site. Neoprene differs from foam in a handful of ways. For one thing, it is more durable and provides a tighter and more conforming grip. Another difference you'll find in neoprene can coolers is that they'll typically have visible outer stitching, whereas the foam models usually have it on the inner side. Neoprene also has a bit more of a sophisticated look and its cooling abilities have a longer staying power. However, neoprene is a more expensive material than foam insulation, so it's important to remember to keep price, audience, and order size in mind when choosing your material.
Our promotional neoprene coolie giveaways take the sophistication factor up a few notches by way of their shimmering metallic colors. Available in your choice of silver or gold, these elegant, upper crust beverage can hand warmers have a decidedly uptown look. They're great for weddings, retirement parties, or any large-scale festive occasion. Each has a height of 4 inches and an imprint area of 2 inches wide by 3 inches high. A single color logo imprint comes standard, but as an upgrade option, you add multiple imprint colors and locations. These models are designed to last and will provide countless advertising impressions for your brand for years to come.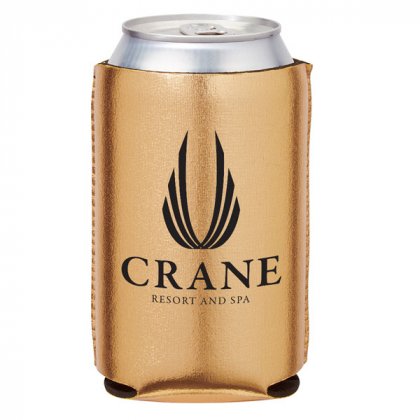 4. Engraved Tan Leatherette Can Cooler - Custom Engraved Beer Can Holders
Now it's time to shake hands with our Engraved Tan Leatherette Can Cooler. These are a great pick for when you want a promotional giveaway item that's classy yet is also animal-friendly. The leatherette material surrounding the insulation of these cans has the look and feel of real leather without containing any animal products. The light tan tone of the faux leather contrasts nicely with the dark tone of your engraved logo design. These are personalized drink can coolers with low minimum orders, with only six units being required per purchase. This allows each one to be specially personalized to fit each individual recipient. It also provides an opportunity to acknowledge the best and brightest performers in your company when they've earned some recognition. In terms of size, each one has a diameter of 3 inches and a height of 3¾ inches. The engraving area is 3 inches wide by 2½ inches high.  As is the case with all of the bulk can holder giveaways we've shared so far, these models fold flat for easy storage.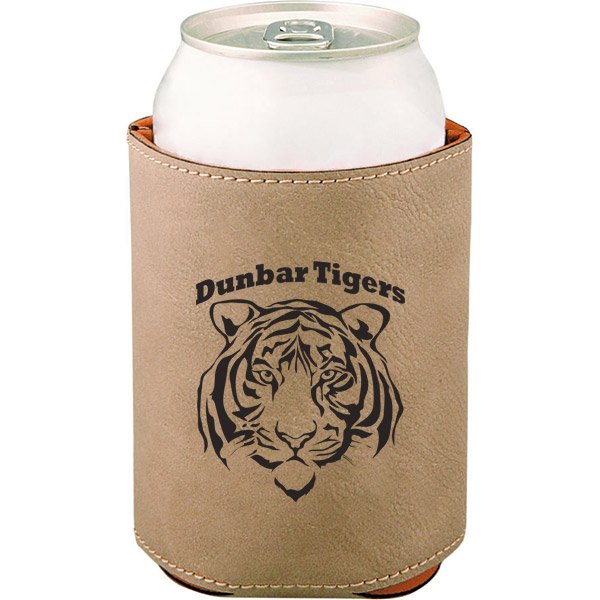 5. Jersey Bottle Kooler - Custom Novelty KOOZIE® for Giveaways
Promotional KOOZIE® products are one of those items where fun comes standard. Still you can up the ante on the fun factor when you invest in custom novelty KOOZIE products for trade show giveaways & events. One example comes in the form of our personalized sports jersey bottle coolers.
Constructed from laminated open cell foam and shaped like a sports jersey, these are perfect for promotional giveaway items for sports teams, colleges, and athletic venues. They're designed to let a bottle slip in for a snug and secure fit. Their v-neck style allows for a subtle yet powerful accent, while the extended sleeves add a bit of extra fun. Striping on the sleeves is optional, so if you order these items, please be sure to specify if this is a feature you want. These custom novelty KOOZIE items are available in many colors and stand 6 inches in height. Each comes with a single color and location imprint area. An imprint on the front provides a space of 3 inches wide by 4 inches high, while the back imprint area is 3 inches wide by 4¼ inches high. Please call us if you have any questions as to further personalization options.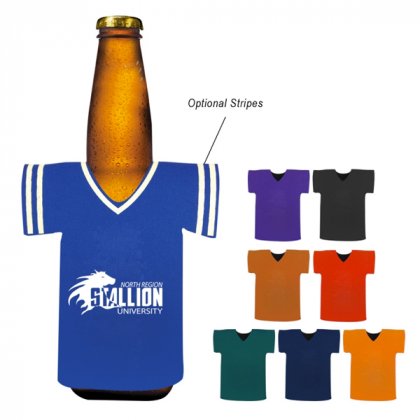 6. Magnetic KOOZIE® - Promotional Magnetic Beer Can KOOZIE Products
Sometimes a KOOZIE can be more than just a Koozie. The wholesale cheap magnetic KOOZIE available for purchase at 4AllPromose are a perfect example. Available in your choice of black, red, or navy blue, these custom printed foam drink holders present a magnetic backing. This is a very handy feature when users want to put down their drinks for a moment without  having to worry about them toppling over and making a mess. They have the necessary size to handle most any standard beverage can or bottle, with a width of 4⅞ inches and a height of 3⅞ inches. These custom foldable polyurethane foam beer KOOZIE holders fit snugly, fold for convenient storage, and ship 100% free of charge! Design your own custom KOOZIE by taking advantage of the 2½ inch wide by 2½ inch high imprint area. A one-color imprint comes standard, but up to 4 are available for an upgrade fee.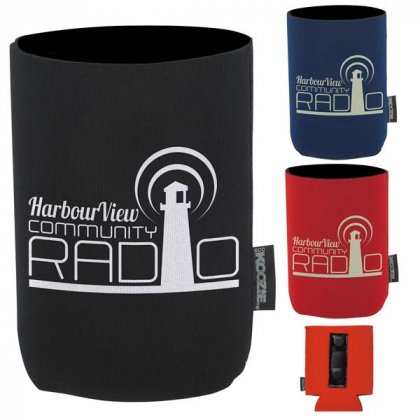 7. Kratos® Double Wall Stainless Can Cooler - Bulk Vacuum Insulated Drink Holders
The seventh item on our list of the best promotional Koozies & custom beverage can holders for Summer 2019 is the Kratos® stainless steel can cooler with vacuum insulation. As you likely remember, double wall vacuum insulation was the third variety of insulation technology we mentioned in the introduction. This is the most effective and long-lasting solution, both for keeping drinks cold, keeping hands warm, and keeping surfaces dry. Essentially, this is achieved by placing one container inside of another one that's slightly larger. Immediately before the cans are sealed, the air between them is suctioned out. This creates a barrier that prevents ambient temperatures from seeping in and condensation from seeping out. 
Our promotional vacuum insulated stainless steel can cooler holders have a modern, extra-clean look. This is owing to their stainless steel construction, combined with your choice of accent rim colors. Black, blue, red, or lime green will add a touch of color & visual appeal to the immaculate, stoic look of the stainless steel body. These customized sweat proof bottle holders are designed to fit bottles and cans of 12 oz or larger. With a diameter of 3 inches and a height of 4⅞ inches, these double wall insulated can holders are rough, tough, and long-lasting. Each comes with your choice of a double sided imprint design (3⅞ inches wide by 2½ inches high) or a wrap imprint (8¾ wide by 2½ inches high) in one color. For an upgrade fee, you can have your customized business logo design laser engraved into the surface in a space measuring 3 inches wide by 3 inches high. Reach out to us by phone, email, or live chat if you'd like to learn more.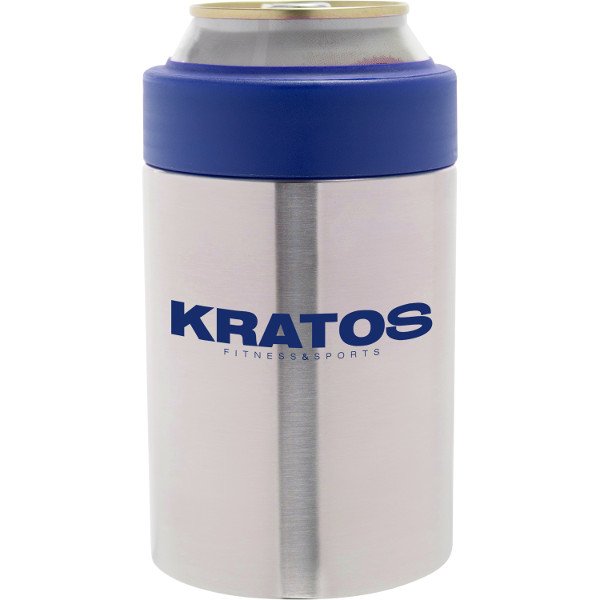 8. Zippered Bottle Coolie - Custom Zippered Insulated Beer Bottle Holders
We've spent a lot of time talking about our promotional insulated can coolers, so now we'll pay some attention to our customizable bottle cooling holders. The simply named Zippered Bottle Coolie is made with pride in the USA and employs top-quality open cell foam to keep beer and soda refreshingly cold. Operation is beautifully simple. All you need to do is slip & zip and you're good to go. These 7 inch tall fully customizable insulated bottle holders fit snugly and securely, ensuring optimum beverage temperature and exterior dryness. Though they're white by default, these personalized zippered bottle koozies have a fully customizable, full-color printed surface. From head to toe, you can design these zippered drink bottle insulators however you please.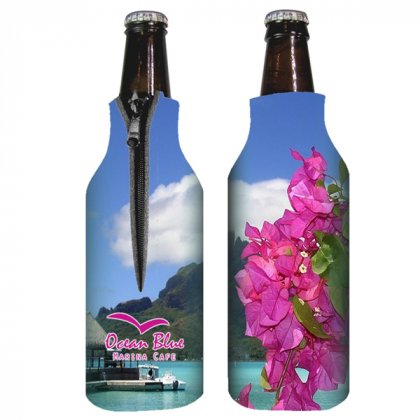 9. Bottle Opener KOOZIE® - Custom Beer KOOZIE Slwith Bottle Openers
Just like our magnetic can holders, the Bottle Opener KOOZIE is a personalized drink holder that offers two useful items in one package. In addition to providing a cooling agent for beverages, these items also contain a bottle opener, perfect for cracking open a cold one. Everyone knows how irritating it is to have a cold and delicious bottle of beer or soda whose contents are rendered inaccessible by way of a snap cap. You can try the old car key trick, but more often than not, that just winds up with a lot of scrapes and frustration. You can make this a thing of the past for your target audience when you provide them with our customized beer koozies with bottle openers. Each can open both cans and bottles thanks to a tool located at the base of each unit.
These can & bottle opener insulated drink holders are made from water-resistant polyester. They're easily collapsible for quick and efficient storage and transportation. They can even be folded down flat enough to be carried in a pocket! Available in your choice of black, red, or royal blue, these drinkware giveaway items have a height of 4⅞ inches and a diameter of 3⅞ inches. Design your own insulated beverage holders via taking advantage of the 2½ inch wide by 2¾ inch high imprint area provided on each unit. One imprint color and location come standard. Contact us to learn of further personalization options.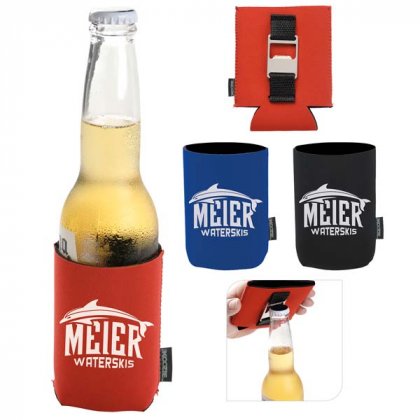 10. Full Color Boot Drink Holder - Fun Novelty Insulated Drink Holders
Kick up some fun and brand awareness at the same time with our promotional boot shaped insulated drink holders! These make great promotional giveaway items for dances, company parties, steakhouses, BBQ restaurants, shoe stores, and any business with an outdoorsy or Western theme. These customized novelty beverage accessory giveaways come in 6 different stock art boot styles. Choose your favorite among biker boots, ostrich boots, work boots, snake boots, rain boots, or stocking boots. 
Each of these promotional novelty drink holders features full color logo imprinting. Their double sided imprint areas are 2¾ inches wide by 2¾ inches high. A bottom imprint area is also available, possessing a diameter of 2 inches. For an upgrade fee, fully customizable surfaces are accessible. Able to hold both cans and bottles, each unit is 5 inches wide by 5 inches high.
11. Insulated Coffee Wraps - Promotional Take-Out Coffee Cup Sleeves
This item is unique among all of the others in this article as it is designed to keep beverages warm rather than cold. Our company logo printed coffee cup sleeves prevent coffee from prematurely cooling. They also prevent users from burning their hands. We think just about anyone would agree that this is a highly important feature. Each ships for free and is designed to fit most sizes of carry-out coffee cups. Perfect for coffee bars, corporate break rooms, and morning events, these items come in your choice of ten different colors. Each has a width of 2¾ inches and a height of 4½ inches. A single color logo imprint design comes standard, occupying a space of 1¾ inches in width by 3½ inches in height. Upgrade options are available, so please give us a call for further information.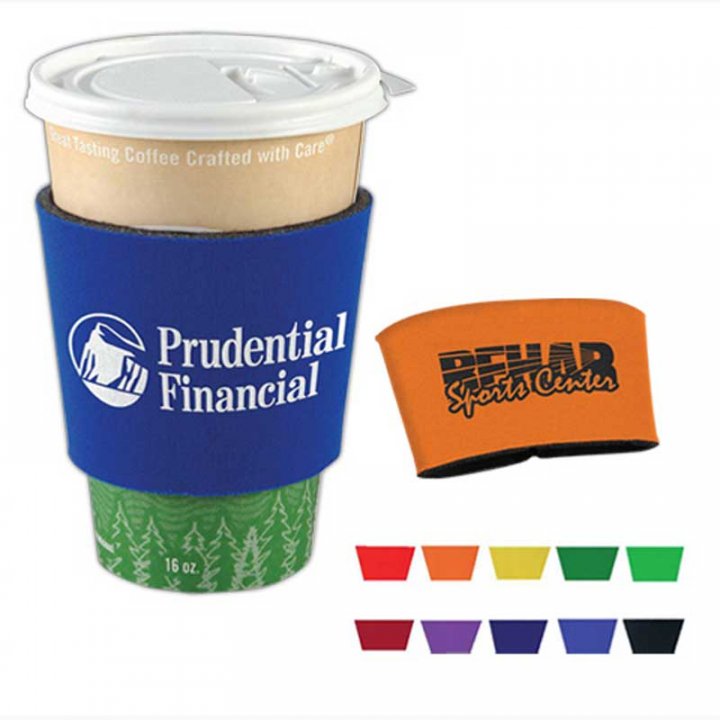 12. Beer Blizzard Beverage Cooler Insulator - Bulk Gel Ice Packs for Beer
If you're a fan of the TV series Shark Tank, you've likely heard of the Beer Blizzard before. If not, we're happy to explain it to you. When you buy promotional Beer Blizzard drink coolers in bulk from 4AllPromos, you're arming yourself with a powerful tool for building brand awareness. These unique, innovative, and affordable promotional beverage giveaway items consist of a miniature cold pack that is designed to be slipped into the bottom of a beer can cooler. After just 30 minutes in the freezer, they're ready for action. They're designed to work with beer, soda, and seltzer cans, acting as invisible ice cubes.
In addition to being small in price, our personalized Beer Blizzard can holders are conveniently small in size. Each has a diameter of just 2 inches, making them easy to store and able to fit inside of nearly any beverage sleeve. For a blizzard-like effect, they're white in color. You can add additional hues to the picture by way of including your logo in the provided 1⅛ inch diameter imprint area. A single imprint color is included in the price, but full color logo designs can be implemented for an upgrade fee.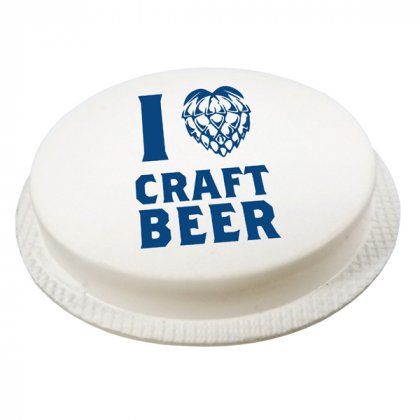 13. Deluxe Six Pack Cooler KOOZIE® - Promotional Six Pack Coolers
When on a picnic, tailgating, or chatting with friends Hank Hill style, just one cold beer simply won't do. Your employees, customers, and target audience will want to be able to provide enough cold brews for everyone. Enter the custom logo printed six pack coolers from KOOZIE. These promotional beer cooler bags are made from sturdy 70 D polyester and offer a spacious main zippered compartment along with a front pocket for the storage of dry items. They come in your choice of smoke gray, hunter green, royal blue, or red. For transportation convenience, each has an adjustable 44 inch shoulder strap. These wholesale customized six pack coolers are 9 inches wide by 6¾ inches high by 7 inches deep. Their imprint area spans 5½ inches in width by 3 inches in height. A single logo design color and location come standard. Please get in touch with us to learn of all available upgrade options.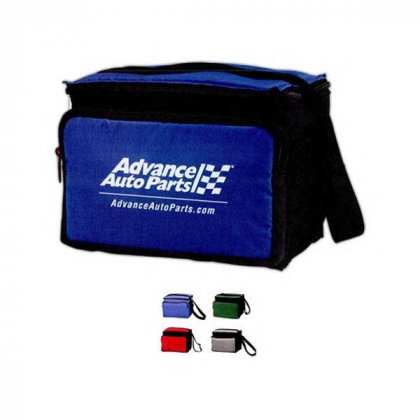 14. Neoprene Growler Cover - Promotional Insulated Growler Sleeves
Make a great promotional giveaway item even better via matching any of our promotional growlers with our custom insulated growler sleeves. Microbrews and homemade craft beers are more popular than ever these days. Your business can easily capitalize on this trend. How? By offering those in the industry (and those who just enjoy drinking craft beer) with an item that will keep their beer and cider tasting its best while displaying your logo in the process. Our personalized neoprene insulated growler holders come with a relatively low minimum order quantity of 24.
These extra large insulated growler covers are made from high quality neoprene and offer an intricate color scheme. Pick from 20 different colors to style the main body portion, bias trim color, contrasting accent stitching, and sewn-in base. Each element can have a different color, the same color, or mixes of coordinating colors. Our custom insulated growler cooling covers are 6⅝ inches tall and have a 5¼ inch diameter. Design your own growler covers with the included twin one-color imprint areas on the front and back center. Each is 4½ inches wide by 4½ inches high. Wrap imprints, bottom imprints, and multiple color logo designs are all optional upgrades.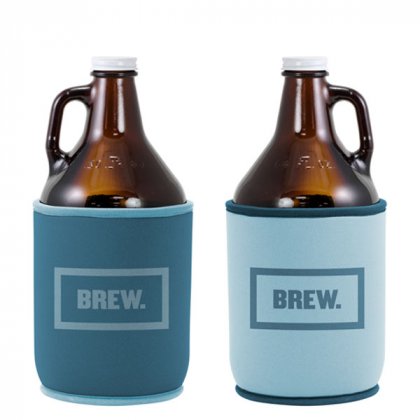 15. KOOZIE® Manta Golf Kit - Promotional Golf Drinkware Gift Sets
Create a constant stream of advertising impressions from tee to green with the KOOZIE Manta Golf Kit. These personalized golf gift sets offer a zip closure beverage cooler, three Wilson Ultra 500 golf balls, and five 2¾ inch tees. An exterior strap is located on the side of the cooler for vertically inserting the tees so they stay in place and aren't lost. These make perfect promotional corporate gifts for bosses, important contacts, and loyal customers. Each set is 3 inches wide by 9 inches high by 3 inches deep. The cooler, tees, and golf balls are customized with your company logo. The imprint areas are 3 inches wide by 1½ inches high, 1½ inches wide by ½ of an inch high, and ¾ of an inch in diameter, respectively. Each item is imprinted in one color. If you'd like to include multiple color or full color imprints, please contact us and our team of artists will get to work on bringing your creative visions to life.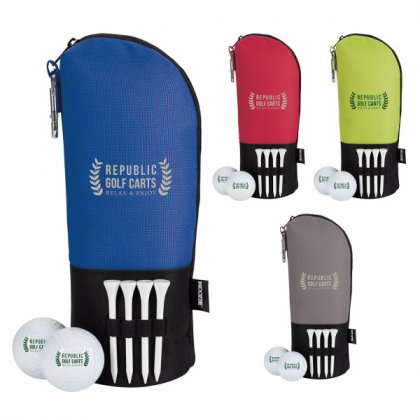 16. KOOZIE® Chair Kooler - Custom Folding Chairs with Coolers
Last, but certainly not least, we present to you the KOOZIE Chair Cooler. Give the ultimate gift of rest and relaxation by offering your employees, customers, and target market with a promotional folding lawn chair and cooler rolled into one! Perfect as promotional giveaway items for tailgating, each unit consists of a folding chair with a built-in zippered cooler and complementary mesh pocket. Users can kick back and enjoy the game in decadent style, all the while flashing your business logo for all to see. These chair and cooler combos come in your choice of four different colors and are 11 inches wide by 11 inches high by 9 inches deep. Each is imprinted with your customized logo design in a 7 inch wide by 7 inch high imprint area. They're quite durable and sturdy, with a weight capacity of 250 lbs.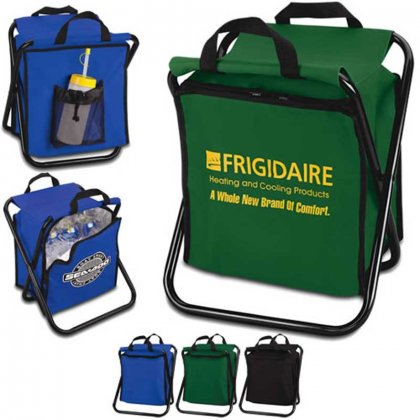 We've truly enjoyed sharing with you this guide to the 16 best personalized KOOZIE® giveaways and promotional insulated beverage cans for summer. We hope it's inspired you with some ideas to hit the ground running when the schools close, the beaches open, and the temperatures climb. If you want to know more about any of the products detailed in this article or have questions about any that were not, please reach out to us. Our team of artists and sales professionals will do all that it takes to make your brand awareness red hot this summer!