Show Mom Some Love with Our Best Promotional Mother's Day Gifts!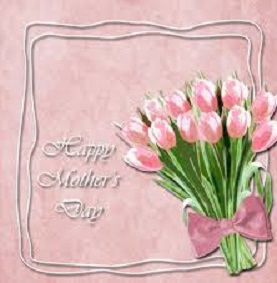 At last, springtime is upon us again. Along with the warmer weather, rising flowers, new animal life, and outdoor fun, this time of year plays host to many holidays. One of the most important yet (in our minds) highly underrated holidays of spring is Mother's Day. After all, if it weren't for our kind, nurturing mothers, none of us would be here today. In appreciation to all of the mothers out there and all they've done and continue to do for us, we present this article on the best corporate Mother's Day gifts for 2019. Whether you're seeking to buy gifts for mothers on your payroll, those of your customers, or even the mothers and grandmothers in your own family, this guide will help you to find the best possible gifts. Making Mom feel appreciated while building brand awareness & goodwill is a win/win combination, 100% of the time. 
Now that we've set the mood, we'll start telling you about the personalized Mother's Day gifts, customized with your business logo, that are available for purchase on our site. The first four items will focus upon a floral theme. Gifts 5-7 will cover sweet treats & snacks. In the 8 and 9 spots, we'll share some of our custom Mother's Day mugs. 10th through 12 will be focused on personalized bath, body & wellness gifts, while items 13-15 focus on extra special sentimental style gifts. We've included the menu below so that if there's any category that catches your interest more than the others, you can jump right to it.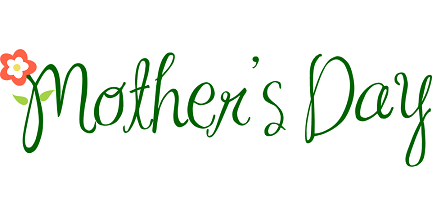 Fresh Blooms Seed Paper Greeting Card - Promotional Mother's Day Card with Wildflower Seeds
Combine a great Mother's Day card and present into one package with our promotional seed paper greeting cards with wildflower seeds! Shipping 100% free of charge, our Fresh Blooms Seed Paper Greeting Cards are highly eco-friendly. They contain seed paper made from 100% post-industrial (pre-consumer) recycled materials. As can be seen in the image below, each card features three die cut circles to let your personalized message show through. Once they're opened, the cards can be separated from the seeds. The cards can be placed on a mantle keeping a reminder of your love indoors. When planted in the ground, these wholesale seedpaper cards will grow into beautiful wildflowers. This will make mothers feel special and appreciated while tending to the yard as well.
Engraved Bamboo Blossom Kit - Promotional Potted Plant Gifts for Mother's Day
Does Mom have a green thumb? If so, our company logo printed potted plants for Mother's Day will make an ideal gift. Small enough to fit easily on a windowsill or sun room shelf, our Engraved Bamboo Blossom Set has a low minimum order quantity of just 6 units. This makes them ideal promotional Mother's Day gifts for small businesses, particularly garden centers, gift shops, grocery stores, and arts & crafts retailers. Each of these custom potted plant gifts comes with an instruction sheet as well as a peat pellet, forget-me-not seeds, and a 100% biodegradable bamboo pot. Each pot is engraved with your company logo or special message to the recipient. These personalized eco-friendly plant gifts are also ideal for working mothers, since their small, convenient size makes them a perfect fit for desks and cubicles.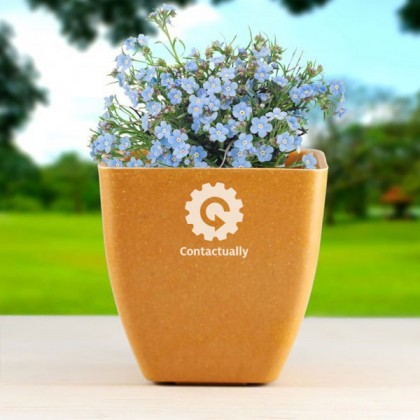 Flower Shaped Bookmark - Promotional Eco-Friendly Mother's Day Gifts
Here's an eco-friendly promotional Mother's Day gift that will be sure to put a smile on any mother's face. This is especially true if the mothers on your gift list happen to be avid readers. Our promotional flower shaped plantable bookmarks feature seed paper made from 100% recycled materials. This comes in the shape of a five petal flower in your choice of many different colors. Each seed paper flower can be planted in the ground to grow cheery wildflowers just in time for summer! Colored cardstock for the greeting card portion, as well as corn cello bagging are available as upgrade options.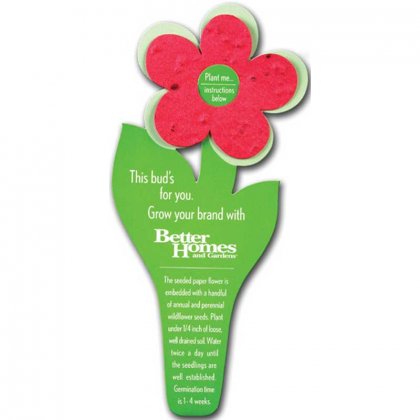 Flower Print Palm Dipped Gloves - Promotional Gardening Gifts for Mom
If you're looking for the best promotional Mother's Day gifts for flower shops, garden centers, or landscaping firms, you've found them in our personalized Mother's Day gift gardening gloves! Offering strength, durablity, and premium longevity, our Flower Print Palm Dipped Gloves are built to work hard for the long haul. They feature a comfortable breathable knit fabric that's also form-fitting, eliminating those annoying litttle droops of extra space that so many other gardening gloves create. Each is treated with a coating of nitrile palm, which protects against scrapes, rips, cuts, and tears. Each set is offered in women's medium size and comes with a single color and location imprint to promote your business among the floral pattern. For an upgrade fee, these gloves can be appointed with full color logo imprints and even patches of embroidery. Give us a call to learn more.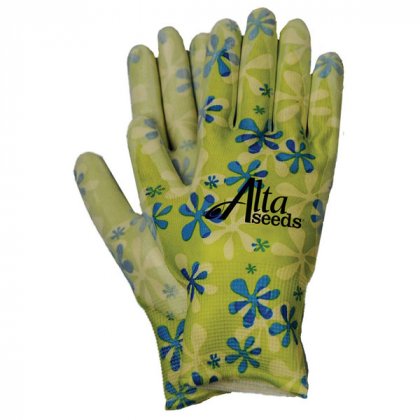 Mother's Day Cookie Pail - Best Personalized Mother's Day Snack Gifts
Here's a chance to show that your business has only the sweetest thoughts for all of the mothers it employs & caters to. Our full color logo printed Mother's Day Cookie Pail gifts come in brightly colored festive containers, reminiscent of those used by Chinese take-out restaurants. Awaiting inside are 9 scrumptious fortune cookies that are Kosher certified and individually wrapped. One of 100 different fortunes, jokes, quotes, and pieces of advice geared toward mothers waits to be discovered inside of each cookie. A vinyl accent bow decal is included on the top of every pail. Included in the standard price is a single color straight line text imprint. Multiple imprint locations and colors can be accessed for an additional fee.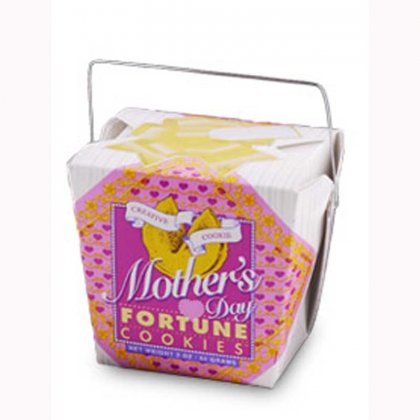 Gift Boxed Godiva® & Tuscany™ Tumbler Set - Luxury Corporate Mother's Day Gift Sets
If you can't decide on just one product as your company's go-to promotional Mother's Day gift for 2019, why not offer a bundle? That's exactly what you can do with our Godiva personalized travel tumbler gift sets. Each one ships 100% free of charge and has a very low minimum order requirement of just 10 units. This allows you to reserve them for the best and brightest mothers who deserve a treat for going the extra mile. Each set contains a stainless steel travel tumbler, equipped with a faux leather sleeve in your choice of many different colors. The leatherette sleeve comes debossed with your company logo imprint design and/or special Mother's Day message. The tumbler features double wall insulation, enabling it to keep drinks hot and/or cold for hours at a time. Speaking of drinks, each of these gift packages comes with  Godiva® hot cocoa mix as well as sweet biscuits for a perfect snack combination.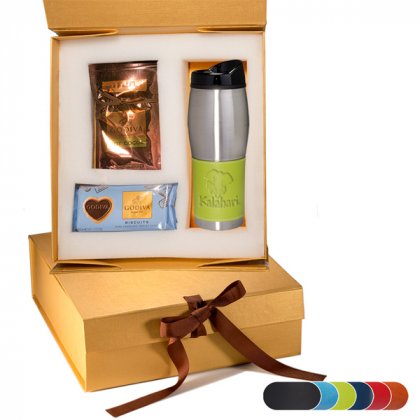 The Imperial Gift Box - Best Corporate Mother's Day Gift Boxes with Low Minimum Orders
Send a tower of promotional power this Mother's Day with our Imperial Gift Box! These promotional Mother's Day food gift towers are bursting with style and tasty snacks. They're another low minimum order gift package, with only 12 units being required per purchase. As can be seen in the picture below this paragraph, these customizable gift towers for Mother's Day contain two Executive gift boxes, two Chairman gift boxes, a classic single box, and a Gold Rush tin. Just waiting to be devoured and heartily enjoyed are cookies, popcorn (both caramel and butter flavors), cashews, pistachios, lentil minis, chocolate covered pretzels, and chocolate covered almonds. They're all tied together by way of a decorative ribbon that is hot foil stamped with your logo design or message. If these aren't the snacks you'd like to include, we may be able to make some adjustments. Just give our customer service team a call and we'll get to work on tailoring these to your specifications.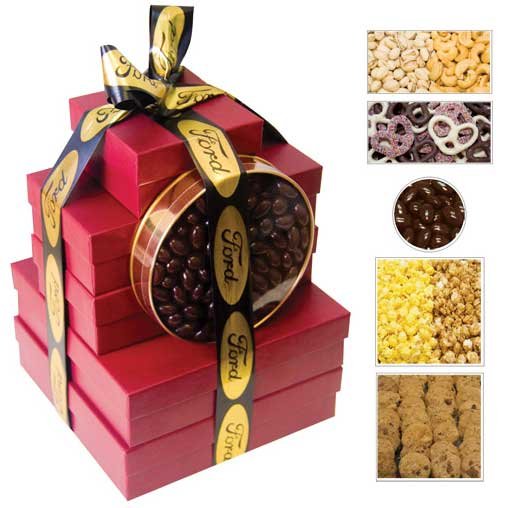 Bounty Ceramic Mug - Customizable Mugs for Mother's Day Gifts
Is your business considering a mug for this year's corporate Mother's Day gifts? Try our Bounty Spirit Mug on for size. These custom imprinted ceramic mugs work great at home, in the office, on the road, or while venturing outdoors. This item offers a blend of timeless charm and sensible functionality. Each holds 11oz of coffee or any other beverage of choice. A white interior is complemented by a solid color exterior, available in a grand array of different hues. While a single location and color logo imprint come standard, multiple logo imprint colors and locations, including full wraparounds, are available as upgrade options. These classy yet simple mugs are a gift that any mother would be happy to receive.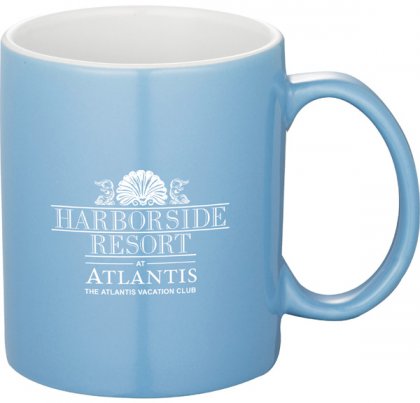 Full Color Stoneware Maui Mug 15- oz - Personalized Photo Mother's Day Mugs
If you want to add a touch of extra personalization, our 15 oz Full Color Stoneware Maui Mug is the way to go. Printed in full color, these can be personalized to create custom photo collage mugs to help recipients celebrate who and what they hold most dear. Each is equipped with an extra long handle for easy carrying, which is shaped to contour to a four-fingered grip. Each is white (beneath the graphics/in unprinted areas, if any) and comes individually polybagged. A gift box can be included for a $0.95 upgrade charge, while a special mailer can be included for an addtional $1.20. Feel free to give us a call, email, or live chat message to learn more.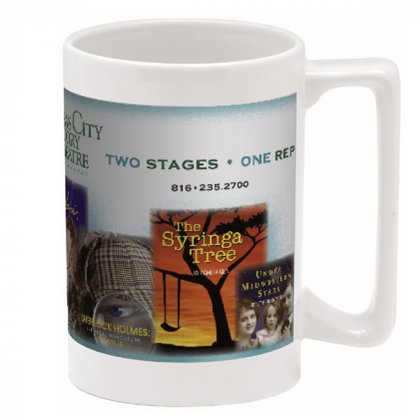 Mink Soft Touch Robe - High Class Promotional Bathrobes for Mother's Day 2019
If your business happens to be in the beauty, hospitality, or apparel industies, you definitely want to pay attention to this item. Our Mink Soft Touch Robes are promotional embroidered bathrobes for women that are a true study in luxury. Made from soft touch mink, these elegant robes are soft, warm, comfortable, and the epitome of high-class style. Their anti-pill fabric ensures that the surface integrity and texture will not be marred by way of broken, hard, or crusted fabric ends as time goess by. Each robe has twin pockets, making them perfect for an early morning breakfast out on the front porch or a day of telecommuting from home when a cold strikes. Available in navy blue or white, these customized women's bathrobes make excellent presents for Mother's Day. Included with every order is a garment safety bag for protection as well as a logo embroidery area on the left chest section. Up to 8,000 stitches are included at no extra charge. In terms of size, these personalized soft touch robes are 49 inches long and have 31 inch sleeves.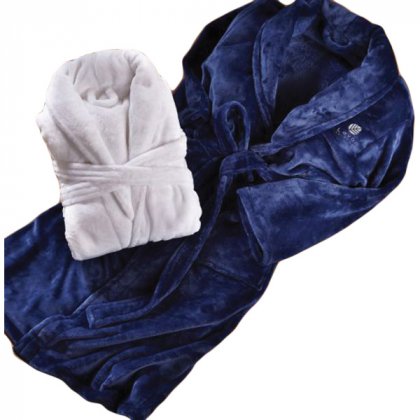 Quilted Velour Slippers - Wholesale Slipper Gifts for Moms
Pictured directly below the next paragraph, our Quilted Velour Slippers make for a terrific complement when offered alongside the Soft Touch Bathrobes we highlighted in the previous section. However, these personalized velour slippers for Mother's Day gifts also do just fine on their own. When you have your company logo imprinted on the upper band of these slippers, you can ensure that your logo or message will be among the first thing users see in the morning and one of the last they see at night. Daily advertising bookends like that are sure to keep your spa, salon, hotel, resort, casino, fashion boutique, or sleepware business on users' minds for years to come.
Coming in soft and subtle white and tan colors, these slippers are so comfortable that no other can compare. They're made from quilted velour (kind of obvious, given the name) and feature a contrasting tan strip of cotton twill, which is where your logo imprint will appear. Like the bathrobes discussed earlier, these promotional slippers come with travel bags for safekeeping. Each and every pair ships absolutely free of charge and comes in a one-size-fits-most form. A single color and location logo imprint are included in the price. Please give us a call if you're interested in learning of possible upgrade options.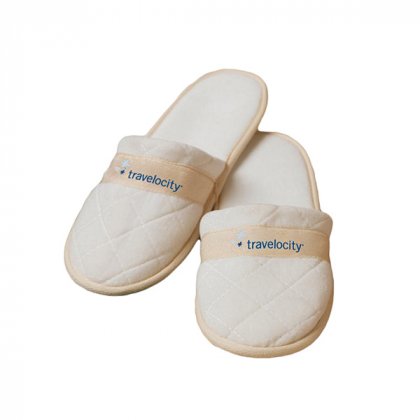 Tahoe Baby Microfleece Blanket - Personalized 1st Mother's Day Gifts for Expecting Mothers
Do you have any expecting mothers or women who have just had their first child working for your company or on your gift list? If so, our Taho Baby Microfleece Blanket will make a great first Mother's Day gift. A relatively low minimum order quantity of 36 further enhances the appeal of our personalized embroidered fleece baby blankets. It allows them to be given as corporate promotional Mother's Day gifts to a small yet important niche market.. New mothers will love swaddling and holding their little bundles of joy in these soft-as-can-be microfleece blankets. The polyester microfleece fabric is sheared on both sides for an extra smooth feel and comes in your choice of six different colors.
One of the best things about these custom Mother's Day gift blankets is that their large size (30 inches wide by 40 inches long) means that they can be kept around long after infancy is over, serving as a beloved blanket throughout childhood and as a treasured sentimental item for mothers to keep for a lifetime. While an 8,000 stitch embroidered logo design is included in the standard price, upgrades, such as dye sublimated graphics, are avaliable for an added fee. Give us a call, live chat message, or email to learn more.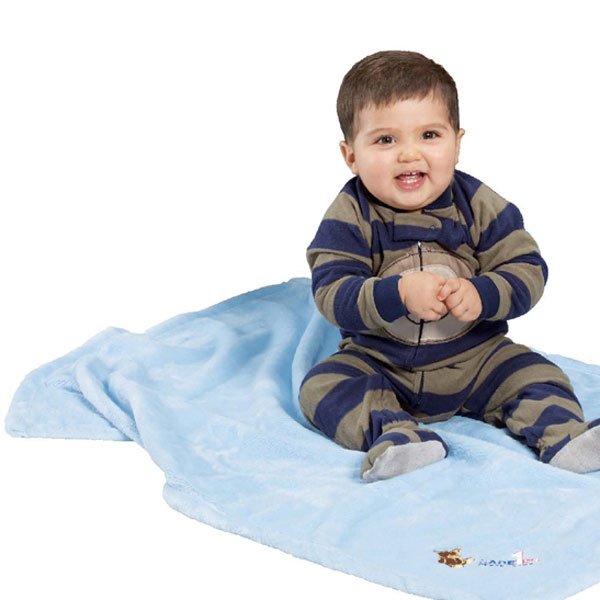 Soho Tote Bag - Promotional High Class Tote Bags for Mother's Day
All of the mothers among your valued employee and customer bases will love being able to step out in style with the Soho Tote Bag. Their sharp tartan plaid patterns, leatherette accent piping & handles, and logo debossed leatherette patch solidly place them among the best promotional tote bag gifts for Mother's Day. The plaid exterior is made from a durable polyester twill fabric. Choose color a color scheme of black and white, red and navy blue, tan and black, or a mixed color tartan, all of which can be viewed via the preceding link. Each tote bag measures 19 inches in witdh and just a hair under 14 inches in height. They come with a main storage compartment which offers ample space for shopping, trips to and from the library, carrying needed items to and from work, or storing essential items for carry-on luggage. The long and slender carrying handles grant users the choice of holding them by hand or draping them over a shoulder. Overall, they're the perfect corporate Mother's Day gift ideas when it comes to treating active Moms who live life on the go.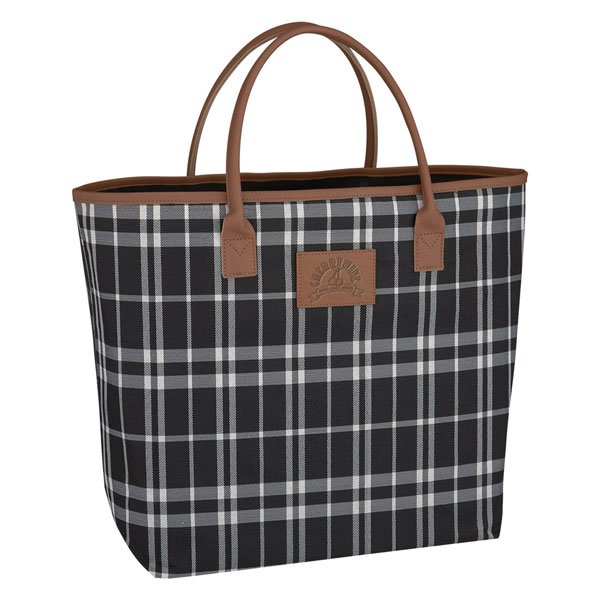 Full Color Heart Photo Keychain - Promotional Low Minimum Order Mother's Day Gifts
When it comes right down to it, Mother's Day is truly a holiday marked by love, emotion, and appreciation. After all, this is a day that's all about showing Mom just how much you love her. That's why we feel our promotional heart shaped photo key tags are one of the best possible fits as customizable gifts for Mother's Day. Don't just take our word for it though; take a look at the image below this paragraph and you'll see that these promotional photo keychains speak very well for themselves. Each one comes standard with a full color imprinted image of a nature scene depicting animal mother & child duos. However, you can also decorate them with your own choice of graphics. Considering the low minimum order quantity of only 6 units, creating a personalized image to fit each individual recipient (with some help from our artists) is as easy as it is fun. Each of these keychains is imprinted with your personalized company logo design or message. While one-sided personalization comes standard, both sides can be decorated for an upgrade fee.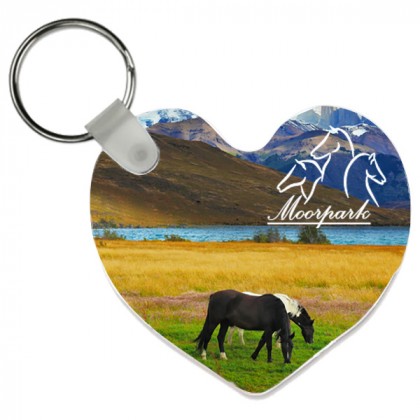 Engraved Colby Women's Leather Strip Watch - Custom Watch & Jewelry Gifts for Mothers
Help mothers remember just how much they're cared for 24/7 with our custom engraved Colby Women's Leather Strip Watch! These promotional engraved ladies' watches make for a charming, elegant, and breathtaking Mother's Day gift. As is the case with many of the corporate Mother's Day gifts covered in this article, these watches have a low minimum order requirement. Only 3 units are needed per purchase, ensuring that these watches are reserved for the best of the best and customized accordingly. A stylish black padded leather wristband with a traditional pin buckle keeps these watches comfortably in place. Japanese quartz movements, powered by an ultra-steady battery provide accurate and consistent time display 24/7. The face of the watch bears etched markers which lie beneath a splash-protected mineral crystal glass cover. Your custom business logo or special message to the recipient is laser engraved into the side fo the watch opposite the face. Due to the extensive, precision-oriented production process, these Mother's Day watch gifts have a 4 week production period. Be sure to order them by April 10th or earlier.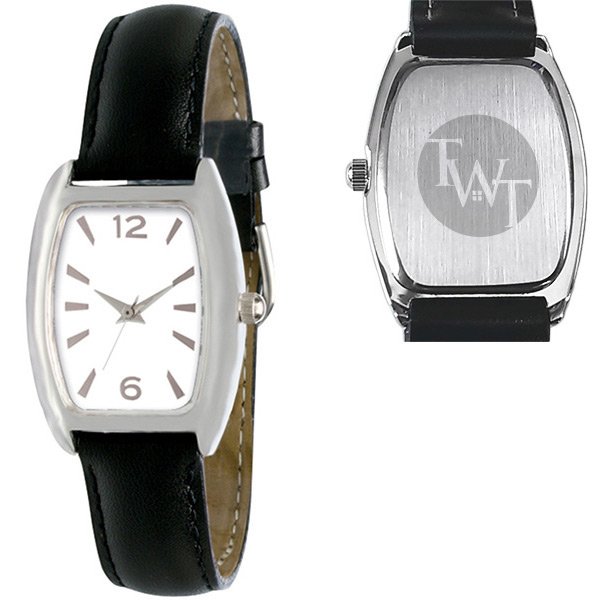 That's all for our guide to the best promotional Mother's Day Gifts of 2019. Are there any categories you feel we should've included that didn't make the cut? Any comments on the ones that did? If so, stand up, shout, and let us hear about it! On that note, we'll conclude by wishing the happiest and healthiest of Mother's Days to all of our readers and loyal customers!