Have a Heart with a Dozen of the Best Promotional Products for Valentine's Day!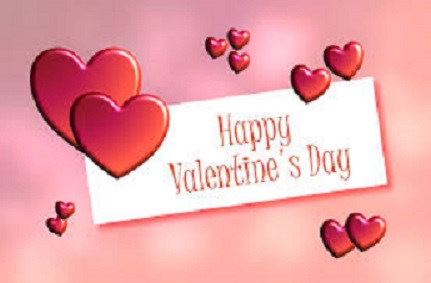 Valentine's Day is just around the corner, so speed is now of the essence when it comes to ordering Valentine's Day promotional products for your business. We hope to make it a bit easier for you by way of sharing our personal picks for the top 12 best promotional products for Valentine's Day. This sometimes overlooked category presents a chance for your business to make a memorable, emotional connection with employees, customers, target audience members, and valued contacts. With that explanation out of the way, we'll now move on and start sharing our Valentine's day giveaway ideas.
1. Valentine's Day Cookie Pail with Logo Imprints
One of the great things about our Valetine's Day cookie pail is that it also works as a promotional gift for celebrating the Chinese New Year. Each one is shaped like a Chinese restaurant take-out container and holds 9 fortune cookies. These tasty little morsels all come with fun nuggets of wisdom, quotes, kind wishes, and amusing jokes. There are 100 different fortunes that can come inside of any one cookie, so in each box of 9 you'll be certain to see a great variety. All of our promotional Valentine's Day cookie boxes are Kosher certified and hold fortune cookies that are individually wrapped. Design your own fortune cookie pails by adding a vinyl bow at the top of the box, accompanied with your company name or special message. Each comes with a single color, single location line of straight text. For an upgrade fee, multiple color prints are available.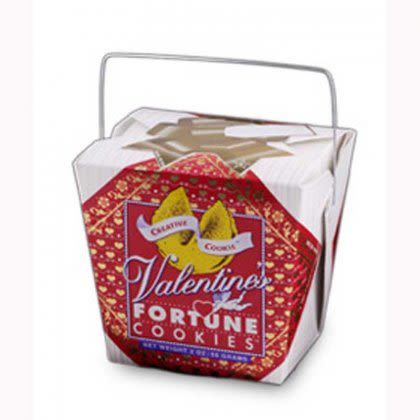 2. Custom Logo Printed Conversation Hearts Package - 2 oz
Conversation Hearts a timeless, classic candy that have been a mainstay of Valentine's Day for as long as anyone living today can remember. They're simple yet fun customized candy gifts that bring the mind back to childhood Valentine's Day parties in school. This ups their nostalgia factor, taking advantage of another opportunity for a special emotional connection. They're perfect Valentine's Day promotional items for hotels, couples' retreats, schools, therapists, gift shops, bookstores, grocery store, and beyond. Each bag of our promotional Conversation Hearts for Valentine's Day contains two ounces of Conversation Hearts with cheerful messages stamped into each piece. Users can view them through the clear plastic bags which are topped by a header which will be decorated on both sides in full color with your personalized company logo design.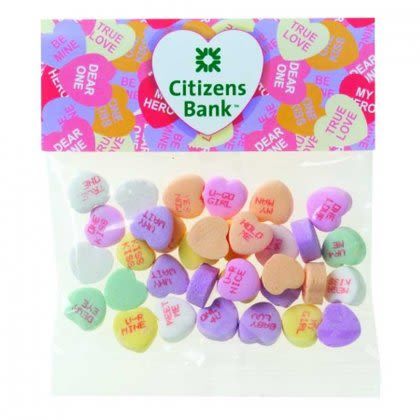 3. All-Natural Heart Shaped Coasters - Eco Friendly Giveaway Items
If you're looking for the best Valentine's Day promotional giveaway items for bars, restaurants, and night clubs, you can't go wrong with our Heart Shaped All Natural Cork Coasters. They're also great for recycling centers, nature centers, and any other organization that believes in going green. Why? Well, there are a few reasons. First of all, they're made from all natural materials which are also sustainable. They're constructed from bark that is scraped off of trees every nine years that will start to grow right back again. This method also allows the cork material to be gathered without the use of heavy machinery, reducing the amount of harmful chemicals that would otherwise be released into the environment. 
These eco-friendly promotional Valentine's Day coasters are great for keeping tables, bars, and counters dry while users enjoy their beverage of choice. They can also be used as hot pads to protect surfaces from heat damage from cups and glasses containing hot liquids. Your personalized business logo design is imprinted in the middle of each coaster in one color. For an upgrade fee, multiple imprint colors are available for orders of 500 coasters or more. 
4. Super Squish Heart Shaped Promotional Stress Toys
When looking for a cheap Valentine's Day promotional item that is versatile and will work for most any business, we suggest stopping to consider our customized heart shaped stress toys. These are slow release stress toys, which means that they'll hold their squeezed form longer than most, allowing users to watch them gradually come back to form. While not recommended for young children or pets, these custom Valentine's Day stress toy giveaways are ideal for reducing stress and kindling stronger bonds between businesses and their customers. Therapists, cardiologists, pharmacies, general physicians, call centers, convenience stores, gift shops, and many other organizations will find these to be a perfect fit. For the best in safety assurance, each one comes with CPSIA tracking labels on one side. The other side features your business logo design in one color. If you're curious to know of the available upgrade options, please give us a call or reach out to us via email or live chat.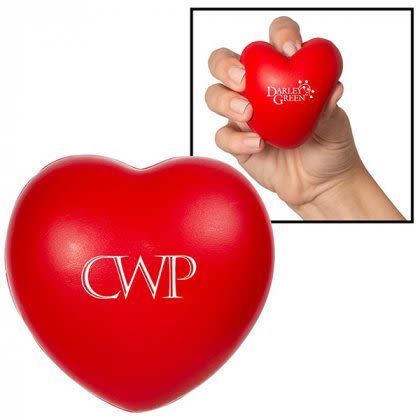 5. Custom Laminated Heart Shaped Hand Fans
Everyone knows Valentine's Day is a winter holiday and consequently, it's not one that most people tend to associate with uncomfortable warmth. Though it might be cold outside, many businesses and offices will have the heat cranked up high, so individuals who prefer a colder climate will need to find a way to cool down. That's where our custom logo printed Valentine's Day hand fans come into the picture. Users can fan themselves at their desks at work, in waiting rooms, while attending church, or on long  plane/bus rides. Laminated for superior durability, our heart shaped hand fans are printed with full color logo designs and have a 8 inch holding stick affixed to the back. They're made with pride in the USA and are also a great option for charities & charity events, such as mobile health clinics and blood donation drives.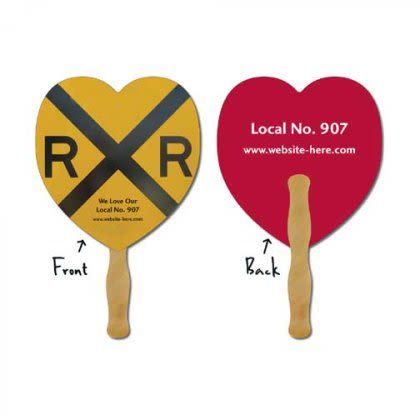 6. Promotional Heart Shaped Jar Openers
Jar openers make for ideal promotional giveaway items, as they have a very long lifespan as compared to most others. They're also items that will see use in users' homes on a near daily basis, creating multiple advertising impressions for years, reminding users of their special bond with your business. Our personalized rubber jar openers with logo imprints are large and durable. They also ship 100% free of charge. They're affordable promotional giveaway items that come in attractive gift bags with clear viewing windows. They're available in a variety of colors and come with a single color & location logo design imprint. For no added charge, you may also add a personalized message to your graphic. Their generous imprint area of 3½ inches wide by 3 inches high makes your logo stand up and shout.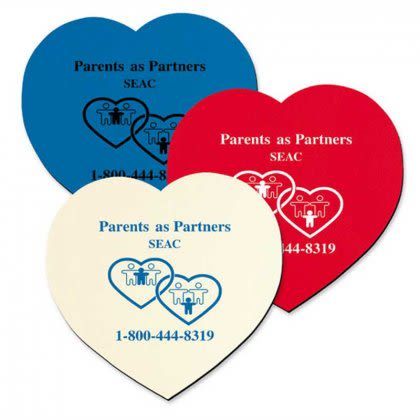 7. Promotional Heart Ornaments
While they're great for the Christmas season, festive holiday ornaments don't have to spend the rest of the year in storage. A cheerful and quaint personalized ornament can make a great addition to any cubicle, car, bulletin board, retail display, or personal space at home. That's why we humbly suggest you consider investing in our wholesale heart shaped ornaments for Valentine's Day giveaways. Every one ships for free and is made from a shatterproof material, allowing them to survive the slings and arrows of each day without breaking down. Their satin finish gives them a rich, smooth look and feel, which is augmented by the complimentary gift boxes in which they're shipped. Also coming standard are a decorative cord and ornament hanger for easy installation almost anywhere.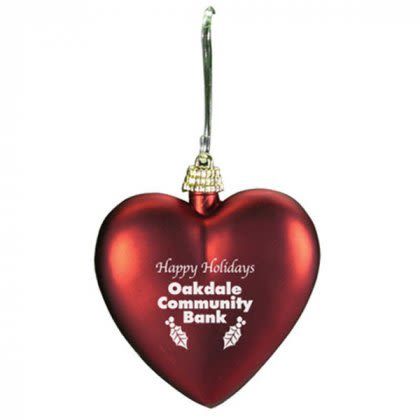 8. Goofy "Pop" Heart Pens wtih Logos
Liven up the mood in your office a bit with our fun and functional personalized Goofy Valentine's Day pens. These black pens with black ink feature a lovable smiling character on top whose heart pops in and out of the chest area when squeezed by users. These customized Valentine's Day pens make great gifts for around the office, for charities, for office supply stores, and many other businesses and organizations. Coming at no extra charge is a suction cup for each pen, allowing them to be easily stored on desktops and table tops without fear of them falling and getting lost. They're perfect for banks to use around Valentine's Day as a break from the regular and rather plain pens customers usually find when filling out a withdrawal or deposit slip. These twist action pens are printed with your company logo design along the barrel.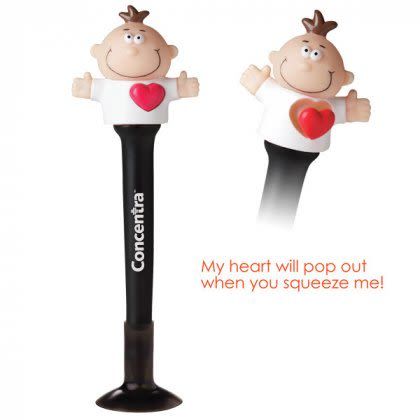 9. Heart Compact Mirror Giveaways
Our promotional compact mirrors are a hit with businesses all year through. That's why offering a special design for Valentine's Day is a no-brainer. Everyone can use these bulk compact mirrors to make sure they're looking their best, allowing them to go off on their Valentine's Day dates with confidence. Each ships 100% free of charge and has a hinged opening, which spreads out to expose two mirrors. They're delightfully easy to clean and feature a smooth texture, thanks to their polyurethane leather exteriors. Order these inexpensive compact mirrors in your choice of black or red with silver chrome colored hinges & sides. The materials and colors of these mirrors come together to create a nostalgic 1950s malt shop/diner look, giving them a classic romantic ambiance. Each is imprinted with your company logo design in one color, with multiple color imprints being available for an upgrade fee.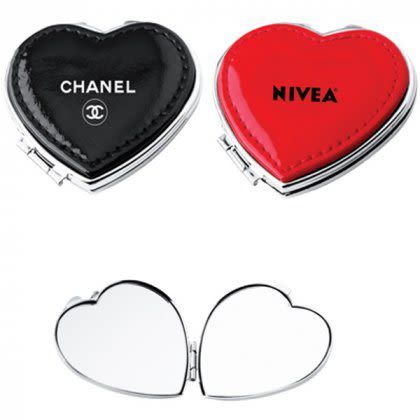 10. Promotional Heart Shaped Morph Sacs
When you need a giveaway item that will allow you to steal the spotlight at your next trade show or event, few items will get the job done better than our custom logo printed Heart Morph Sac Tote Bags. These promotional tote bags work well in backpack/handbag form, but can also be compressed and placed inside of the attached small heart shaped sack, which is held closed by a drawstring cord. These promotional morph sacs come in colors of black, pink, or red, along with your choice of a black or white logo design. For an upgrade fee, other colors are also available for your logo imprint. Made of recyclable polypropylene, these drawstring totes will make plenty of advertising impressions as all who pass by see your logo printed on these unique wholesale tote bags.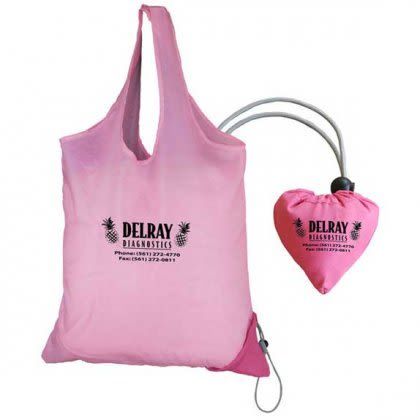 11. Personalized Stuffed Cat with Ribbon
Now here's a promotional item for Valentine's Day that's truly the cat's meow. This adorable stuffed Siamese cat makes a great Valentine's Day gift for animal lovers of all ages. Each absolutely free of charge and comes with your choice of a ribbon or bandana which is decorated with your personalized corporate logo design. Everyone will fall in love with these promotional stuffed cat gifts at first sight, ensuring that they'll be around for years and years. Their embroidered blue eyes are quite lifelike and captivating, making them items that will draw attention wherever they go. If you'd like to see our other animal options, just click on the following link to see our full collection of promotional stuffed animals for Valentine's Day.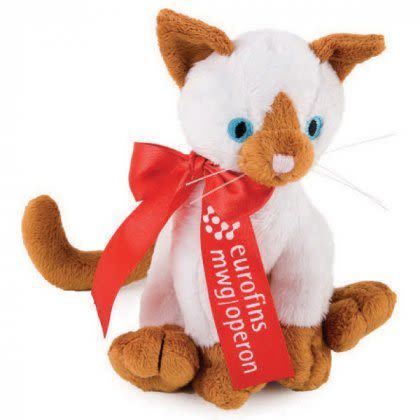 12. Lil' Bloomin Gift Card/Business Card Holders with Logos
Rounding out our list of the best promotional items for Valentine's Day 2019 is the Lil' Bloomer Business & Gift Card Holder. These personalized seed paper Valentine's Day cards are eco-friendly and ship 100% free of charge. They're made from 100% recycled paper and contain seed paper inserts in your choice of many different shapes and colors. While the specimen in the image below has more of a springtime motif, you can also opt for a version that is red/pink and features a heart shaped seed packet. Plant them in the ground and the result will be beautiful wildflowers that will be a joy for all to see. Every time they visit their gardens, backyards, or windowsills, users will be reminded of your company and its thoughtful gift. Their envelope style shape allows them to be sent to each recipient with a business card or gift card inside. 
That just about does it for our handy guide to the best promotional products & giveaway items for Valentine's Day. We encourage you to invest in any or all of them to show your love for your customers, employees, and business contacts. In closing, we'd like to wish you a happy Valentine's Day as well. Your patronage is greatly appreciated and you hold a special place in our hearts all year long!