Find the Best Trade Show Displays & Trade Show Booth Banners at 4AllPromos for an Excellent Exhibition!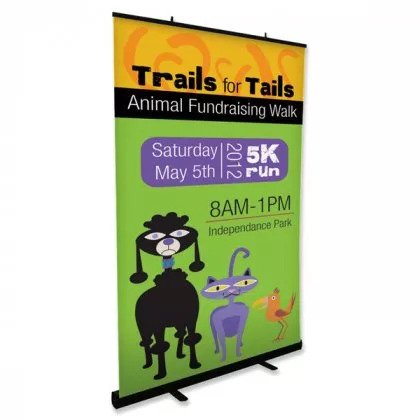 It's now 2019 and trade show season is just about to gear up. Trade shows and exhibitions are always full of opportunities. They give you a chance to learn about new companies, see new products first-hand, build valuable business contacts, and even generate loyal customers. They're one of the best possible avenues for networking. In many ways, they're even better than typical bar/restaurant after hours networking events, since the wealth of products on display and large, moving crowds allow one to break the ice and make conversation without the awkward pauses and shaky introduction. Still, you don't just want to make an appearance at a trade show; you want to be the star. Having great products and a deep knowledge of them is a great way to succeed, but you won't get too far if nobody notices your booth.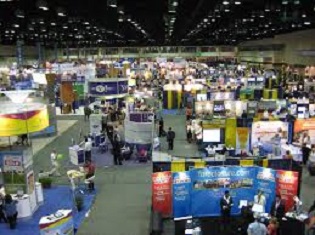 The above paragraph presents a mixture of hope and frustration and possibilities of success and failure. Since generating traffic to your booth is so critical to a positive trade show experience, you need to find a way to catch eyes and turn heads. That's where our promotional trade show displays come into play. With a broad variety of shapes, sizes, colors, decoration methods, and functions, we have all of the best customized trade show banners & booth displays to make your company rise to prominence. In this article, we'll share some of our best custom trade show booth displays with you and explain a bit about the fabrics, styles, and uses of each. To make things easier, we'll break this article up into sections regarding the different materials and shapes of our custom trade show displays as well as our promotional trade show booth games.
When it comes to our personalized trade show booth banners, there are a few main materials and frame styles which you'll frequently encounter. These consist of tension fabric display banners, polyester booth displays, scrim vinyl displays, and EuroFit® exhibition booth displays. We'll tell you a bit about each in the following sections.
Promotional EuroFit Trade Show Displays
EuroFit®  trade show displays are unique among the styles in this section in that their name refers to the frames upon which they're built, rather than the fabric displaying your personalized logo designs. EuroFit frames are constructed for displays that are designed to be easy to assemble, take apart, and transport. This is achieved through their patented system of interlocking push button mechanisms and swivel feet. These allow multiple displays to be attached to each other for a wider display wall or corner effect. The image below is of one of our promotional EuroFit trade show displays known as the EuroFit Tall Bend Wall Stretch Fabric Display.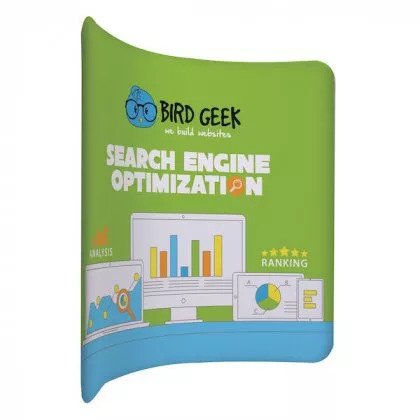 Custom Polyester Trade Show Banners & Displays
Some of our personalized trade show displays are made from polyester. This is an affordable and durable fabric that is found in many different items across many different industries. It's a lightweight fabric, even compared to scrim vinyl, which we'll get to in just a bit. It is measured in Deniers, with a higher D count denoting a stronger fabric with higher wicking capabilities. They're primarily intended for indoor usage. The image below is a prime example of one of our best personalized polyester dye sublimation trade show displays.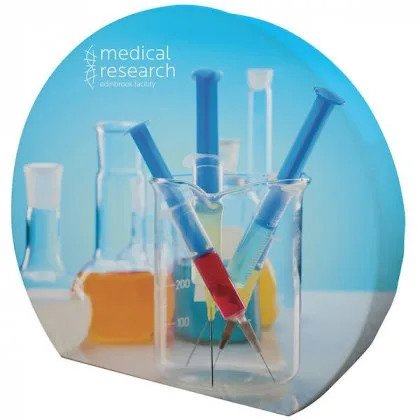 Customized Vinyl Trade Show Displays & Kits
Another common material found in our promotional trade show banners is vinyl. To be more precise, it's often scrim vinyl. Scrim vinyl is a tough and durable material that takes color extremely well. It's also flexible and often has a degree of water resistance. These are just a few of the reasons why it's a popular choice when it comes to making promotional trade show booth displays & banners. Reinforced by way of polyester cording, scrim vinyl has a superior ability to bend and stretch when needed. Below is an image of one of our most popular customizable vinyl exhibition display banners.
As the heading of this section would indicate, there are many different shapes and styles when it comes to our collection of custom logo printed trade show displays & exhibition banners. We'll share some of the most popular forms with you in the next several paragraphs.
Promotional Trade Show Booth Aisle Displays & Custom Exhibition Island Displays
The bigger the trade show, the bigger the audience and opportunity to increase brand awareness and reach company goals. The only downside to this is that larger events cause space to be at a premium. What do you do when there's not enough space in your booth to put up display banners without obscuring your products? How do you go about making your booth a destination if it's not in a block, but rather on its own little island? Fortunately, we have the answers to these questions in the form of our custom trade show aisle displays and personalized trade show island displays.
Here you'll find the Gateway Tension Fabric Kit, which is one of the best customizable aisle displays for trade shows. The fully customizable and larger than life qualities of these walk-through exhibition banners will immediately make your booth stand out at any event. Tension fabric is an expression you'll see a lot when reading about our trade show displays. It refers to a type of fabric that is highly elastic and flexible, allowing it to be put on frames of different shapes and sizes to create a unique look and feel.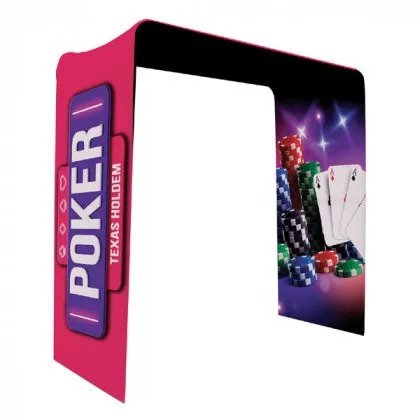 As mentioned before, sometimes your trade show booth won't be lined up in the blocks that you'd typically expect to occupy. When this is the case, your exhibition will often be referred to as an island. Like many islands in life, these can be prime pieces of real estate when properly managed. One way to make sure that you get people's undivided attention is to welcome them to your trade show exhibit with one of our custom logo printed trade show island displays. The example provided below is of our aptly named Stretch Fabric Arch Kit.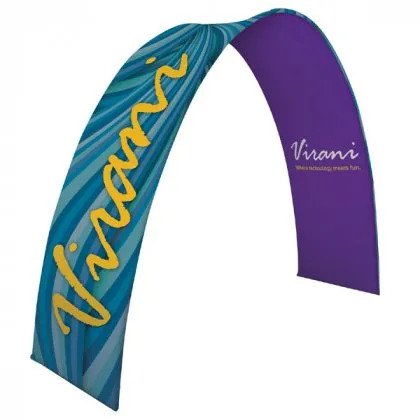 Promotional Barrier Style Trade Show Displays
Yet another option to use when booth space is limited and competition is high is to stop traffic with one of our personalized trade show barrier banners with logo imprints. These are horizontally oriented banner displays which tend to run lower in height. Their purpose is exactly what their name would lead you to believe. Extend one of these from the edge of your trade show exhibition booth into the aisle and people will have no choice but to stop and take notice of your brand. Curious to see what one would look like? Take a gander at our Single Sided 7 Foot Barrier Banner, located immediately below this paragraph.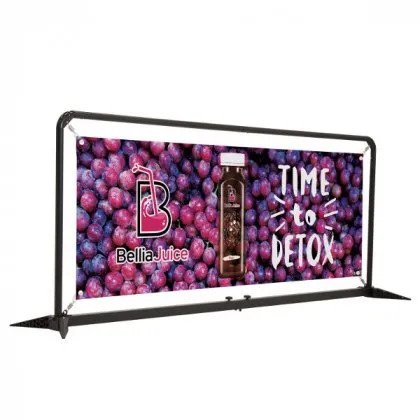 Business Logo Imprinted Wall Displays
Next in the lineup are our promotional trade show display walls & kits. These represent an area of custom logo imprinted trade show displays offering some of the most diversity in terms of size, appearance, and functionality. Some serve as corner pieces for a back and side wall of a trade show booth, such as our customizable corner displays for trade shows & exhibitions. Others have more curvy forms, while still others run the gamut from short to tall, depending on your personal needs. Below, we're sharing an image of one our customized S shaped trade show wall kits.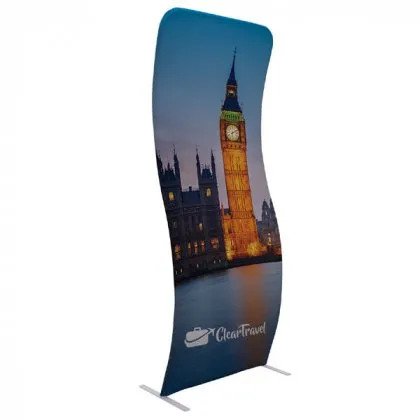 Custom Novelty Trade Show Banners & Fun Exhibition Displays
While it's a bit of a paradox, you don't always have to be all business when being all about your business. A perfect illustration of this slightly strangely worded philosophy would be any of our custom cut-out face wall displays. Fully customizable from bottom to top, these fun novelty trade show banners allow you to create any fun design you want for visitors to come and poke their faces through. The result is a delightful picture for visitors to remember their experience by, but more important, to remember your business and all it has to offer. Here's one of the double cut-out face exhibition displays we carry: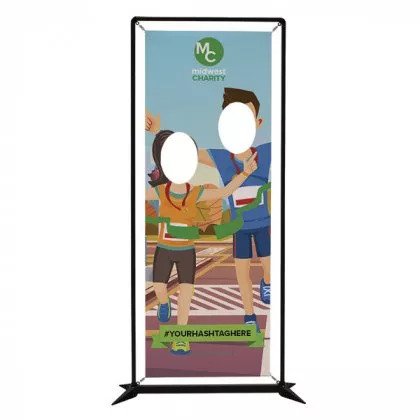 Promotional Roll-Up Trade Show Display Banners
A model of convenience and a master of grasping attention, our personalized retractable trade show display banners are top-selling items that are hard to beat. The Jumbo Retractable Banner Stand, which is pictured below this paragraph, ships for free. That's just the beginning of what makes them so popular. They come with sturdy aluminum frames which are easy to set up and light enough to easily carry around. When you arrive at your booth, all you need to do is unfurl the banner and it's ready to go. When it's time to leave, you can roll it back down and pack it up with the frame in the complementary carrying case for an easy exit.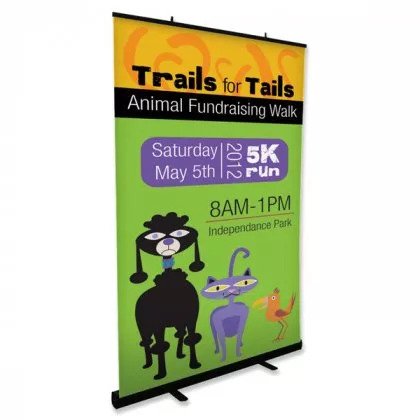 Custom Logo Imprinted Stacked Banners
When you have multiple messages to put out but limited space in which to do so, our promotional stacked trade show banners are your go-to guys. These customizable exhibition displays feature two vinyl panels on the same frame, with one located right above the other. With this route, you can put out two messages at the time for the price of one. One popular way to go with these models is to have your business logo imprinted on one panel and a product plug or special message on the other. As a visual aid, we're including a picture of the FrameWorx® Stacked Banner Display below this paragraph.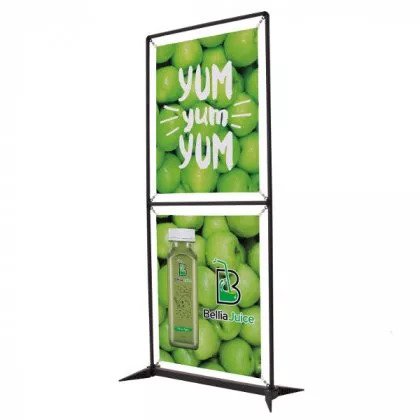 Personalized Table Top Trade Show Displays for Businesses
When you don't want to take up any space in the aisle or alter the walls of your booth, our promotional tabletop trade show displays are one of your top options. These are shorter banners, typically 3 feet or under in height, which can sit front and center at the top of the table in your trade show booth or exhibition island. In addition to taking up a smaller amount of space than a typical trade show display, these models are also more lightweight and tend to be less expensive. The image following this paragraph is of one of our best-selling personalized tabletop trade show banner models.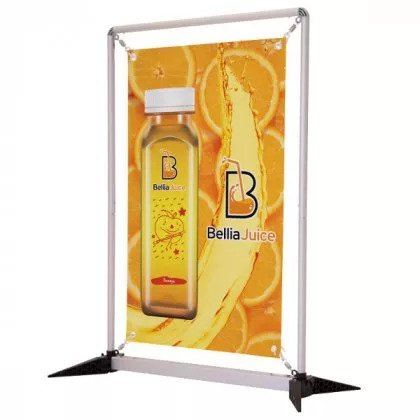 Some of our other most popular trade show banners include our personalized arc trade show displays, artistic company logo printed incline trade show banners, large custom bay trade show displays, and many more.
Being that promotional giveaways are a integral part of trade show success, offering giveaway prizes in games of skill or chance can add some entertainment to the picture. Everyone loves to be a winner. Still, it's not all about if you win or lose, but rather how you play the game. Spinning prize wheels, putting for prizes, and any other interactive game will be sure to drive the traffic to your booth in droves.
Promotional Spin N Win Prize Wheels
The first trade show booth games we'll introduce are our promotional Spin N Win Prize wheels. These custom spinning prize wheel kits come with everything you need to set up your own little wheel of fortune. The included decals can be imprinted with your logo, as well as with labels determining the fate of a player who lands on any given space on wheel. These are popular not just at trade shows, but also at grand opening ceremonies, charitable events, special sales events & more. Take a look at our wholesale spinning prize wheels below to get a better idea of what we're talking about.
Promotional Prize Puck Drop Kits for Trade Show Booth Displays
Now it's time to meet our company logo imprinted personalized prize puck drop kits for trade shows & events. If you've ever seen Plinko® on The Price is Right, then you've seen a prize puck drop game. Users simply hold a disc flat against the top of the board and then drop it, allowing the disc/puck to bounce around the pegs beneath until it lands in a designated pocket. Our prize drop kits contain decals that can be printed with your outcome of choice for each pocket, as well as decals with your company logo design. Take a look at the image below and you'll see what we mean.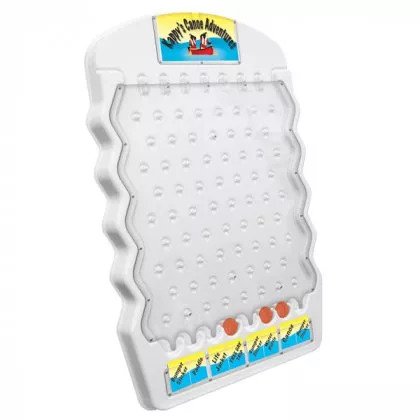 Wholesale Prize Putt Games for Trade Shows & Exhibitions
One of our many fun promotional golf items that's a hit at trade shows and fundraising events is our promotional Prize Putting Kit. These portable trade show games are easy to transport and assemble, making them a hit with businesses. They're also sure to be a hit with your trade show booth visitors who will want to try their hand at sinking a hole in one to win a promotional giveaway prize. These are ideal for athletic industry trade shows, but are pretty much a good fit for any company or event.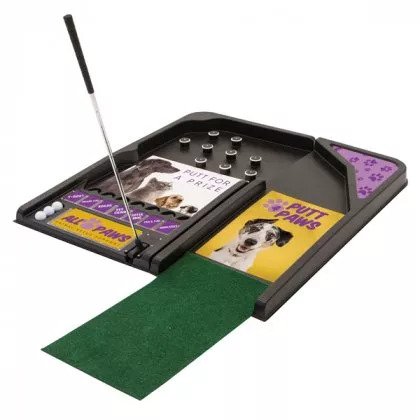 Customized Bean Bag Toss Game Kits for Trade Shows
Last but not least, we'll discuss our promotional bag toss games for a bit. Also known as cornhole, the object of these games is to successfully throw a bean bag (or sand bag/bag filled with any other safe substance) through a relatively small hole in a game board surface. As you'll see from the picture below, our company logo printed bag toss trade show games offer space for showing off your logo while giving visitors a chance to win a fun giveaway prize.
That just about rounds out our list for the best promotional trade show displays, banners, and games for your next industry exhibition or event. We have several more styles to choose from, all of which you can find on the promotional trade show displays section of our website. We'll close by wishing you success in your next trade show and a happy and prosperous 2019!