Promote Your Brand in Style with the Best Custom Stylus Pens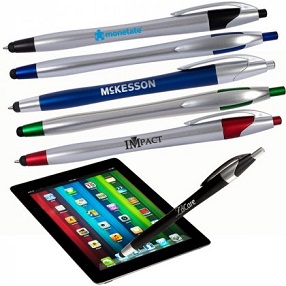 As we state countless times across the many pages of our website, there are few things (at least in the promotional products industry) than getting multiple promotional items for the price of one. It's a mantra we lean on quite a bit, as it's very true to life. Still, it's even better when said multiple promotional items are all included in one simple, small package. That's the case with the vast majority of our personalized stylus pens, which contain ink pens and touch screen pens in one unit, with many of them offering three, four, five, and even six features.
Whether you're looking to buy cheap stylus pens in bulk or want customized stylus pens with low minimum orders to hand out to a select few, we have you covered. Read on to learn more about the different kinds of wholesale stylus pens available on our site and the many purposes they have to offer. In the event that you're interested in a specific type of stylus pen, we've created a handy little link menu below this paragraph which will allow you to go directly to the style that interests you the most.
Different Styles of Promotional Stylus Pens & Custom Touch Screen Pens
Is your business in the tech industry? Are you looking to promote on a budget while still impressing your target audience to reel in more potential customers? If so, our affordable plastic stylus pens are just what the doctor ordered. While one might assume that this would limit their choices to a small number, this is not the case. This category contains options such as plastic personalized grip stylus pens, cheap personalized stylus pen flashlights, customized stylus pens with metallic colored barrels, and several more. Pictured below is the Vortex Stylus Pen, which is our most inexpensive model. Make no mistake though, as these are still of very high quality. Each of these customized stylus click pens converts between writing with a ballpoint pen on paper and working on touch screens with a silicone styuls tip with a simple press on the plunger. This causes the pen tip to extend and retract.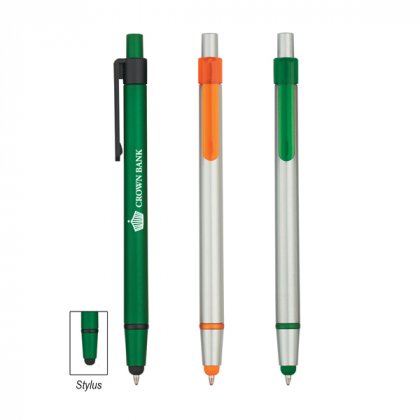 Cheap custom logo imprinted stylus pens such at the Vortex and their ilk are a great way of making the most of the mobile revolution while not leaving avid note-takers and the die hard ink-to-paper crowd behind. With the broad assortment of styles & functions included in our family of cheap plastic stylus pens, there's truly something for everyone.
Whether you're using a pen to write on paper or to type on a mobile device, there are a few issues that can creep up with both. There are really just two most prominent ones, but they're significant. One is the discomfort that can occur as a result of writing for hours at a time. The other lies in the difficulty of control experienced by young children, adults with arthritis, and people who just don't have the best penmanship. Fortunately, our personalized rubber grip stylus pens are here to combat both of these problems and turn them into a thing of the past. With a soft yet firm rubber grip located near the tip of the pen, users will be spared the pain from chronic pen clutching and will also have superior control & more fluent movement while writing.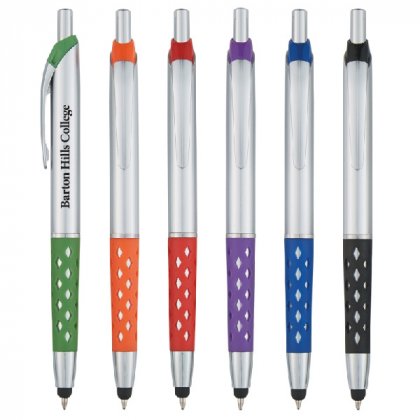 Pictured above are our Lattice Grip Stylus Pens.These wholesale stylus pens with free shipping have a unique & attractive lattice design in their grips, helping them to stand out from the crowd. They're great promotional products for companies where aesthetics are at a premium. Web design firms, art schools, art supply stores, office supply stores, and photography studios are just a few of the businesses that will find this model to be among the best customized stylus pen giveaways.
Do you remember when we said in the introduction that many of our customized stylus pens have more than just two applications? Our promtional stylus pen highlighter combos are a prime example. They offer three different writing implements in one unit: a ballpoint pen, touch screen stylus tip, and a brightly colored highlighter. These promotional stylus pens with logo imprints are perfect for college students and anyone looking to further their education and/or industry knowledge. Users can switch between taking notes on paper, highlighting important passages in books & handouts, and getting work done with their tablets and smartphones, all without having to change implements. Sounds pretty handy, does it  not?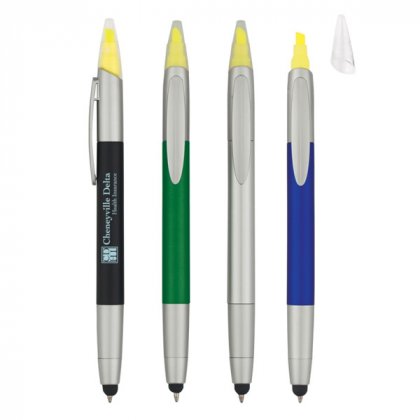 The picture above is of our 3-in-1 Pen-Highlighter-Stylus. That may be a bit of an awkward name to spout out, but the convenience they offer more than makes up for it. Think of the space that can be saved and the elimination of tedious writing implement switching that can be enjoyed on the part of your employees & customers. When these groups, as well as your target market, enjoy this utility, they'll have your company to thank, as your logo is printed in a generous imprint area along the barrel of each pen.
Our novelty customized stylus pens in unique shapes are a great way to grab attention for your brand. These make for some of our best bulk trade show stylus pens, since they definitely won't blend into their surroundings. When visitors to your booth get back to their offices with your custom shaped imprinted stylus pens, all of their co-workers will want to get a peak and take them for a test run. They're also excellent promotional items for schools, art supply stores, and arts & crafts retailers. Their fun forms, coupled with their high quality, will make kids enthusiastic about writing and creatively expressing themselves through art projects. Grateful parents and teachers will remember your company and be certain to order from your brand again.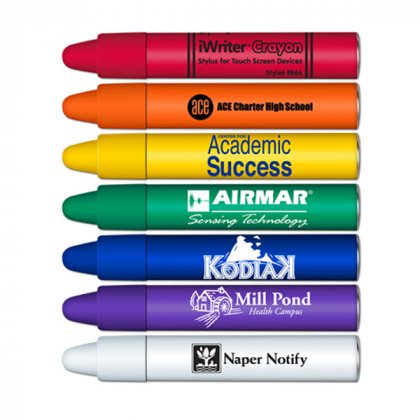 Do you like the bulk crayon shaped stylus pens shown in the image above? They go by the predictable enough name of Crayon Shaped Stylus Pen. Big surprise, right? These are just one of the many great customized trade show stylus pens you'll find on our site. Others include our handy wholesale stylus pen keychains and our personalized illuminated stylus pens, to name just a pair.
With each passing day, it seems everyone has more things they need to get done and less time in which to do them. We figure that's why so many companies are choosing to invest in our promotional multi-purpose stylus pens. Carpenters, contractors, architects, statisticians, physicians, pharmacists, chemists, and so many other active professionals will love the convenience that bulk touch screen stylus pens have to offer. Pictured below is one of our aptly named personalized Multi-Function Pens. Each one of these custom trade show stylus pen giveaways (though obviously they're a hit in other locations & situations as well) contains a ballpoint pen, stylus tip, ruler, level, and magnetic screwdriver bits which can be attached via removing the stylus tip to access their insertion ports.
In addition to the model shown and described above, we have several other custom pens with stylus tips that serve extra purposes. Some examples would be our custom cell phone stand stylus pens, versatile custom stylus pens with carabiners, and personalized stylus pen gift sets that contain a broad array of features. In these hectic times, there are few more appreciated favors than buying time and lowering stress. Our promotional stylus pen multi-tools, imprinted with your personalized business logo design, will ensure your brand gets the credit it deserves and the lifetime customers it craves.
Looking for a more premium, formal, and dignified promotional product to wow trade show attendees & target audience members? If so, we suggest taking a look at our wholesale metal stylus pens & metal customized touch screen pens. They come in many different shapes, styles, colors, and sizes, so you're bound to find the ones that are the best fit for your promotional needs. Pictured below are some our our custom aluminum stylus pens. Available in many colors, accented by contrasting silver rings, these are bulk tablet pens that never fail to impress.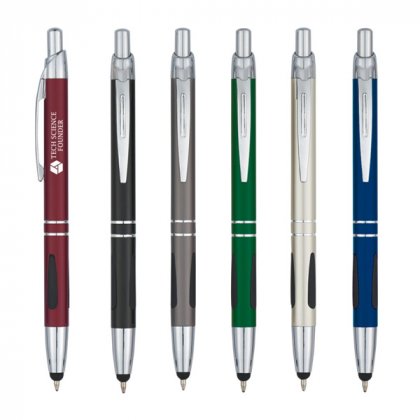 We offer several more styles of customizable metal stylus pens. Some, such as the ones we just finished talking about, are plunger pens that switch between ballpoint and stylus mode with a simple click. Others are double-ended, with the ink pen at one end and the stylus tip at the other. This is the case with many of our promotional stylus twist pens and personalized pull cap metal stylus pens.
When you want to reward an especially hard-working employee, valued business contact, top-notch boss, or extra loyal customer, our custom engraved stylus pens are a shoo-in for success. Many of these pens are available with either free shipping or low minimum order quantities, allowing them to have an extra element of personalization. This makes them perfect as luxury stylus pens for corporate gifts & special events. They're also great promotional products as souvenirs to remember great times, making them an excellent fit as promotional stylus pens for hotels, resorts, casinos, cruise lines, luxury auto dealerships, high-end gift shops & more.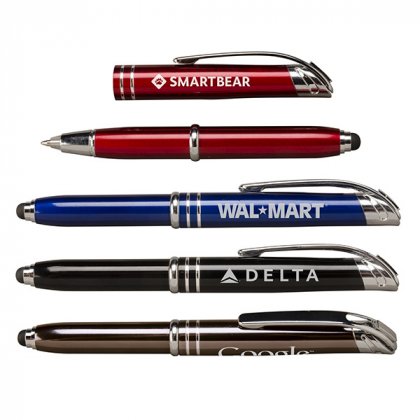 Curious about the picture immediately above this paragraph? It depicts the different available color options and components of our Zentrio Triple Function Pens. These premium executive stylus pens offer an ink pen, touch screen pen, and LED light all in one simple yet elegant package. Each is custom engraved with your personalized logo design or message along the cap, which makes up a large portion of these promotional touch screen stylus pens.
Nobody enjoys dealing with the dust, fingerprints, or greasy smudges that inevitably appear on touch screen devices, no matter how careful one is to avoid them. For that reason, bulk tablet pens with screen cleaners are a highly popular item. Picture a user (and potential customer) having trouble reading their tablet or smartphone screen due to a combination of poor screen clarity and difficult lighting. Then imagine them stopping in their tracks, swiveling their stylus pens, quickly wiping their screens clean, and getting back to work with ease. Now think of all of the onlookers who observed this act and saw your personalized business logo design in the process. That sounds like something that could drive a lot of business and instill consumer confidence & brand loyalty, does it not?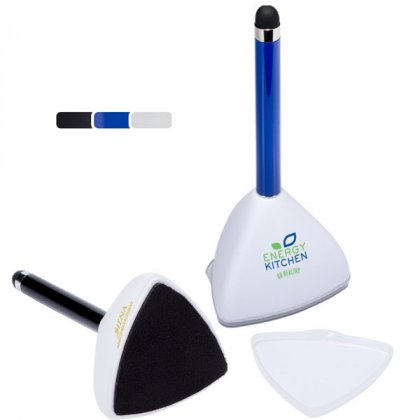 Pictured above is one of our custom logo imprinted touch screen cleaner pens known simply as the Stylus Pen on Screen Cleaner Stand. These handy items ship for free and offer both a ballpoint ink pen & silicone stylus pen tip. They also come with a ultra-modern looking white base, on top of which lies a hole for the pen to be placed when not in use. A removable bottom panel is on the underside of the base, and when open, it provides access to a gentle, soft screen cleaning surface.
With the wide variety of different customized stylus pens available on our site, it becomes quite easy for your business to design your own promotional touch screen pens. From economical to executive, we have all of the best stylus pens to decorate with your business logo. Our talented team of artists is ready and willing to help to create a promotional touch screen pen that will be a true asset t your company branding efforts. Pictured below are our promotional Luminate light-up prism pens and our screen printed Falcon Stylus Pens. However, that's just the beginning.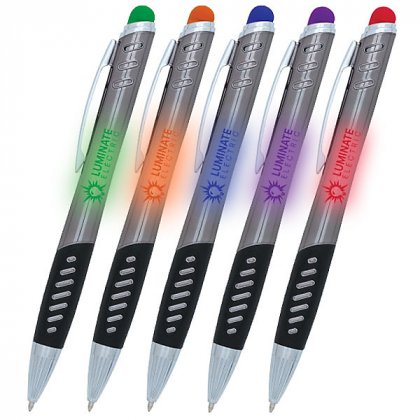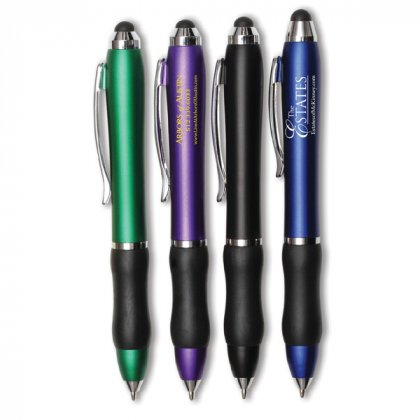 Personalized stylus pens with laser pointers, eco-friendly promotional stylus pens with paper barrels, and fun Mood custom color changing stylus pens are just a few of your many options. The bottom left image is of our BIC Full Color Digital Clic Stylus Pen, while to the right resides a picture of our Fab Multi-Ink Stylus Pen, which is one of our many varieties of promotional stylus pens with multiple ink colors.   
We hope you've enjoyed our guide to our personalized stylus pens and that we've helped you to learn a few things too. Is there any type of stylus pen you're interested in purchasing that we didn't talk about? Any questions about the ones we did include? If so, please feel free to leave a comment here or on our Facebook page, or give us a call, email, or live chat message. Happy writing, typing, and business growth to one and all!